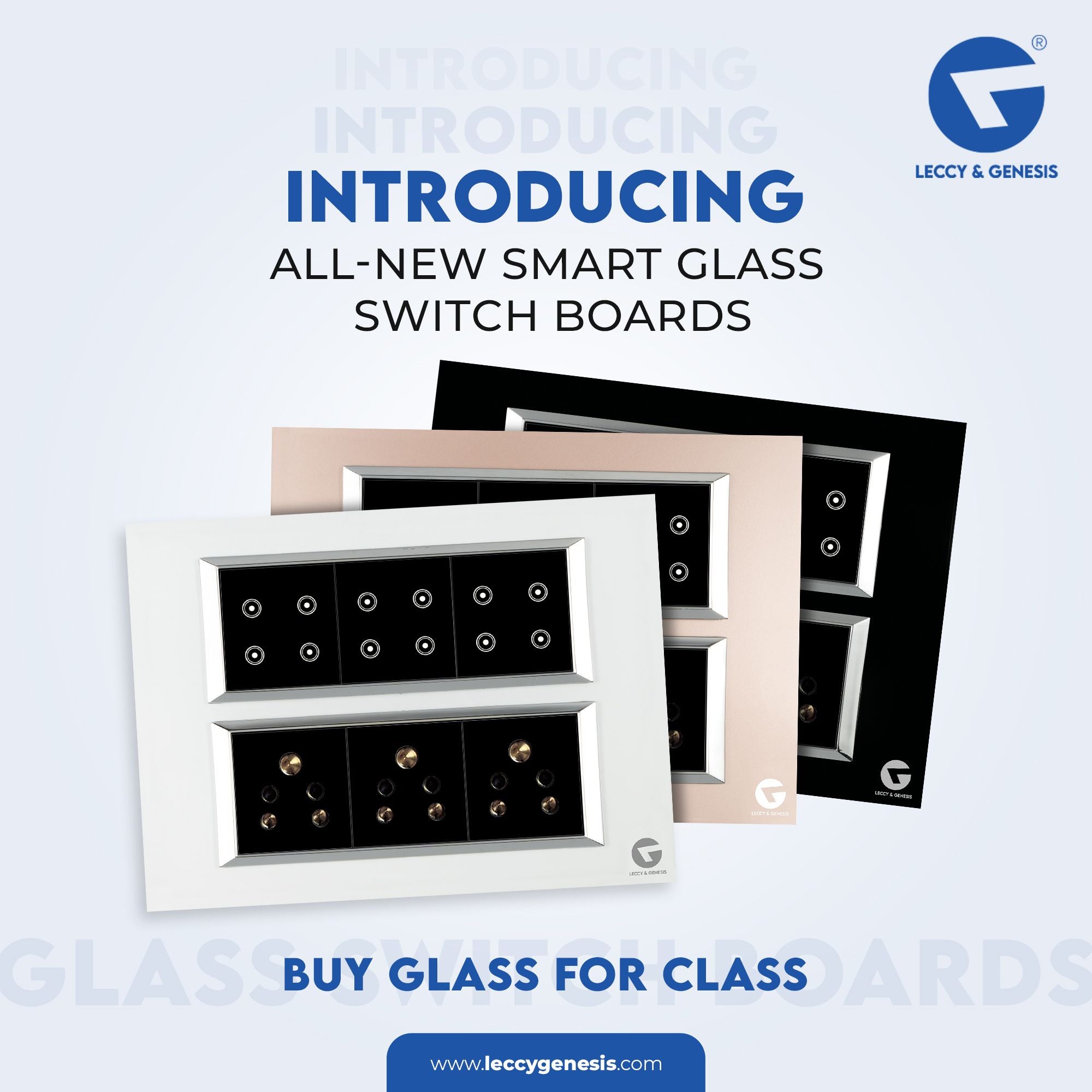 Why do you need a smart glass switchboard for your home?
A smart switchboard or a smart electrical panel enhances connectivity between traditional electrical circuits, electronic devices and switches. They also help in monitoring and controlling lighting, temperature, and different electrical appliances in a home. 
Connect the L & G smart glass switchboard through WiFi or Bluetooth and link it to your smartphone. In fact, this is an ideal way of controlling electrical devices in your home from wherever you are. Isn't this path-breaking technology an asset? Won't this advanced technology  make life super easy and convenient for family members? 
Let us see why we need a smart glass switchboard at home:
German engineered:
The L&G smart switchboard was designed according to Indian standards by German engineers. Voice assistants like OK Google, Siri, and Alexa support the smart switches on the board. Give a voice command, and you can turn off the switchboard. You can even control the gadgets from a distance with the help of a smartphone app called the "smart life app." Whether it is a fan, light, AC, processor, television, plugs, or lamps, all can be plugged into the L&G 12 Modular Smart Switch Board. 
Glass panel:
The smart switchboards by Leccy & Genesis are made from tempered glass and are aesthetically very appealing with their sleek and sophisticated design. The glass panel looks amazing and can be manipulated to control different devices, lights, appliances, etc. 
Integration:
The innovative smart switchboard is an ideal solution for linking electronic and electrical devices in a home or office and controlling them from a common platform. Integrating different gadgets with the smart switchboard makes life convenient and easy for elder adults and people with mobility issues. Not only them, but all of us who are tired after a long and hard day at work can now turn gadgets on and off at will.
Automation and scheduling time
: 
You can also choose and schedule timings for the electronic and electrical devices to turn on and off. The devices can be dimmed or turned to full brightness with the help of commands or when you leave. The smart switchboard by Leccy & Genesis offers hands-free control of the different devices in the home.  
Energy efficiency: 
Scheduling time for the devices to turn on and off is a great way to save unnecessary power usage. L&G switchboards help control the usage of excess energy units and help cut down on electricity bills. This monitoring of energy consumption helps save money. The cooling and heating systems can be adjusted and operated efficiently with the switchboard. 
The Retro and Roma Fit:
 The quality of the tempered glass panel smart switchboard permits easy installation wherever you need it. You can fix the boards easily with the present wiring system and don't have to change anything. The board is easy to use, just like ordinary electric switchboards, and comes with a 3-year warranty. 
Convenient and easy control:
Smart technology in the smart switchboard makes working energy efficient and convenient. Smart switchboards by Leccy & Genesis allow you control over applications, electronic devices, and lights and also permit customization of scenes. Imagine controlling different devices in your home with the switchboard, voice assistants, tablets, and smartphones. Now, you can turn off lights, fans, or ACs even when you are away from home, and you can also turn them on whenever you want. 
Voice assistants: 
Use your voice assistants for voice control. Google Assistant, Amazon Alexa, and Apple products can be used for hands-free gadget control. You can customize them according to your personal needs because customized scenes are possible. 
Remote monitoring
It helps you control and check gadgets and turn them off if not needed. In this manner, no excess electricity will be used if appliances are left on.
Control your gadgets from afar.
Make your style of living easy! You can turn the fan on to cool your room or open the door lock if you are carrying several bags the moment you enter the premises of your home. You don't have to rely on anyone to do anything for you. Leccy & Genesis understands your need to control different gadgets in your home and has created the smart switchboard to make life easy and convenient. 
Enhance safety and security:
Smart switchboards integrate different security systems. If an emergency arises, you can turn off devices to reduce risks. Imagine being able to turn off the power if a device malfunctions in your home. It adds another level of safety to your home.
Aesthetically appealing: 
It is an asset to your home and adds to the style. People with limited mobility can easily control several devices, including lighting and temperature, with the switchboard in the interconnected smart home ecosystems.  
The smart switchboards are equipped with a user-friendly interface. In this manner, different devices can be easily controlled by family members of any age group. Add electrical control, power efficiency, convenience, and intelligence to your home; go get a Leccy and Genesis glass smart switchboard!