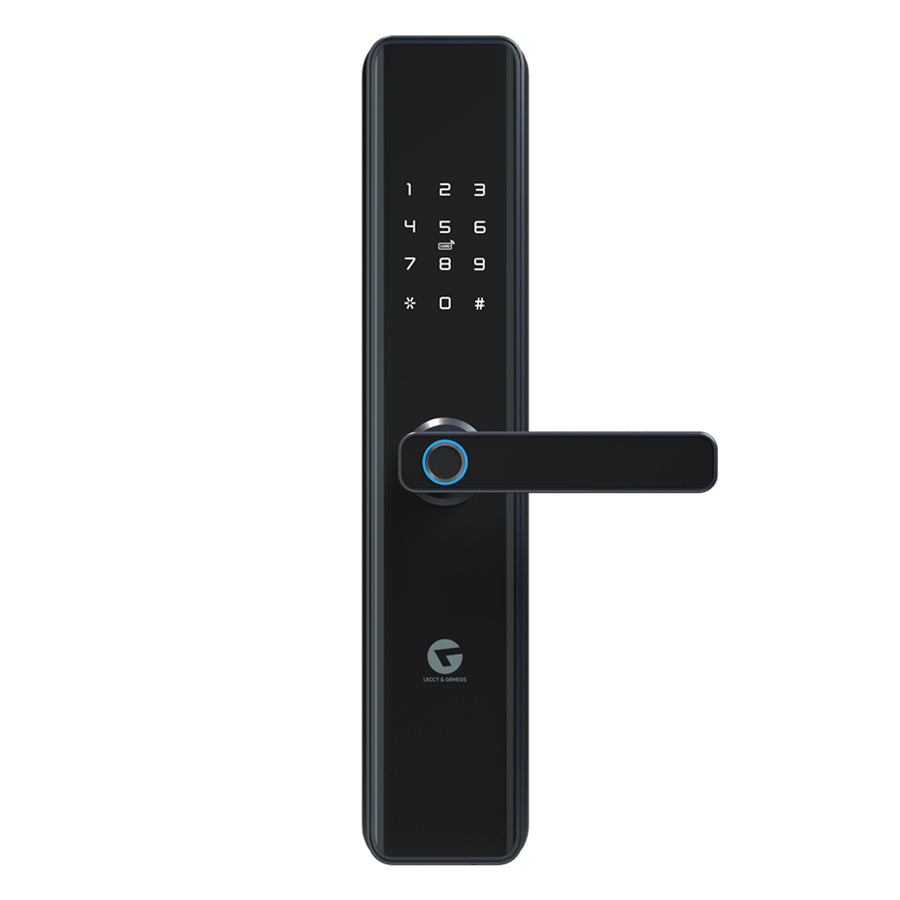 Free Shipping

3 Years Warranty

COD Available

7 Days Return
The best Smart Door Lock for your front door with a sleek modern Edge Arc design complements any interior or exterior door for residential homes, apartments, or commercial offices. L&G Smart Door Lock  is designed by German Engineers to Fit Indian Standards. An ultimate keyless experience, silent unlocking choice for commercial uses from anywhere via your smartphone. A tempered glass aluminum alloy screen with a numeric pad is provided to operate gently. The smart door lock empowers you with 6-in-one unlock options Fingerprint, Numerical Password, OTP, RFID Card, Mechanical Key & App Unlocking.
Smart Door Locks are the ultimate digital innovation that have been custom-made for your homes in the most simplified way! Enter your home carefree with these Smart Door locks. Now there is no fear of losing the keys, as these smart door locks allows multiple access via fingerprint authentication, RFID card, OTP, numerical passcode, app unlocking and of course a mechanical key. Adding unbreakable security features, it also comes with a sleek and modern waterfall glass design. Suitable for residential structures, apartments, and commercial offices. Enjoy fault-proof keyless experience with smart solutions from Leccy & Genesis, powered by Urja Smart Automation Pvt Ltd.
6-in-1 Unlocking Options:

Don't worry about losing your keys or forgetting a passcode, L&G smart door locks are equipped with 6 different access modes; Fingerprint Scanner, Numerical Passcode, RFID Card, OTP, App and Emergency Keys.
Automatic Locking: How often have we all left the house unlocked! No such goof ups with L&G smart door locks with Automatic Locking feature.
Versatile Access: These door locks comes with permanent access (for the family members), timed-based access (for the house help), and one-time access (for guests and unexpected visitors). At a single time, a maximum of 100 fingerprints, Passcodes, and RFID cards each can be used.
Suitable for All: These smart door locks perfectly fits well on metal or wooden doors. Residential or Commercial infrastructures can be fitted with smart door locks on internal and external doors.
Safety and alarm: Apart from the functional alarm, there are various security alarms for added peace of mind. Tamper alarms are built-in to the door lock that sound if someone attempts to damage or tamper with it. You will also be alerted when the batteries need to be replaced by a low battery reminder. Using the mobile app, you can view the battery status and jumpstart the door lock if the batteries are low. You can do this via the USB port located at the bottom of the door.
Dual Charging Power: An emergency charging slot is provided for a low battery indication &temporary charging.
Remote security: If you own rental properties or accommodations to manage for clients, this is your chance to get smart locks for your doors and say goodbye to the dreadful midnight phone call because a guest is locked out.
Unlock Your Door from Anywhere, Anytime: Now, no need to carry key all the time. With the help of app, you can unlock your door from anywhere at anytime.
Model: DZ15
Lock Size: 370*75mm
Dimensions: 370*75*24 mm
Applicable door thickness: 36-40 mm
Fingerprint Storage Capacity (SC): 200 fingerprints
Working Voltage: Emergency power DC 4.6v-6.5v (8PCS AA Battery)
Material: Tempered glass panel Aluminum alloy
Unlocking Options: Fingerprint, Password, App, OTP, RFID Cards & Mechanical Keys.
Password Length: 6-12 bits of password for opening the door
Fake Fingerprint Read: Rate (FAR) ≤ 0.0001%
Code: 100 Users (one user of administrative password and rest users of doors opening password)
Comparison time: ≤ 0.5 sec.
Right Fingerprint Misread (FRR): 0.03%
Type of Fingerprint Sensor: Semi-conducting Fingerprint Reader
Ques-What is Smart Doorlock ?
Ans.The smart door lock is an electromechanical lock which is designed to perform locking & unlocking operations from an authorized device via using a wireless protocol.
Ques-How many different ways can you open the door?
Ans. Fingerprint, Numerical Password, App Unlocking, OTP, RFID Card, Mechanical Key
Ques-Which is type of Door suitable for Smart Doorlock?
Ans. It is suitable for Wooden and Metal Doorlock.
Ques-Which type of battery is used in doorlock?
Ans. Battery type is AA type, the one you use in wall clock.
Ques-Can we operate it remotely via Wi-Fi?
Ans. Yes, you can operate it through Wi-Fi, you can check logs from anywhere, you can unlock it from anywhere by generating an OTP or Password.
Ques-What about Warranty?
Ans. It has three years of replacement warranty.
Ques-Can we add or delete user codes at the keypad using the lock's unique 6-digit programming code
Ans.Yes, you can add or delete any user from keypad as every user has its own unique code to recognize any user easily.
Ques-Door size thickness requires?
Ans.The recommended size of door is 40mm to 120mm.
Ques-Can it be operated remotely?
Ans. Yes, it can easily be operated remotely.
Ques-In which city free installation is available?
Ans. Free Installation is available PAN India