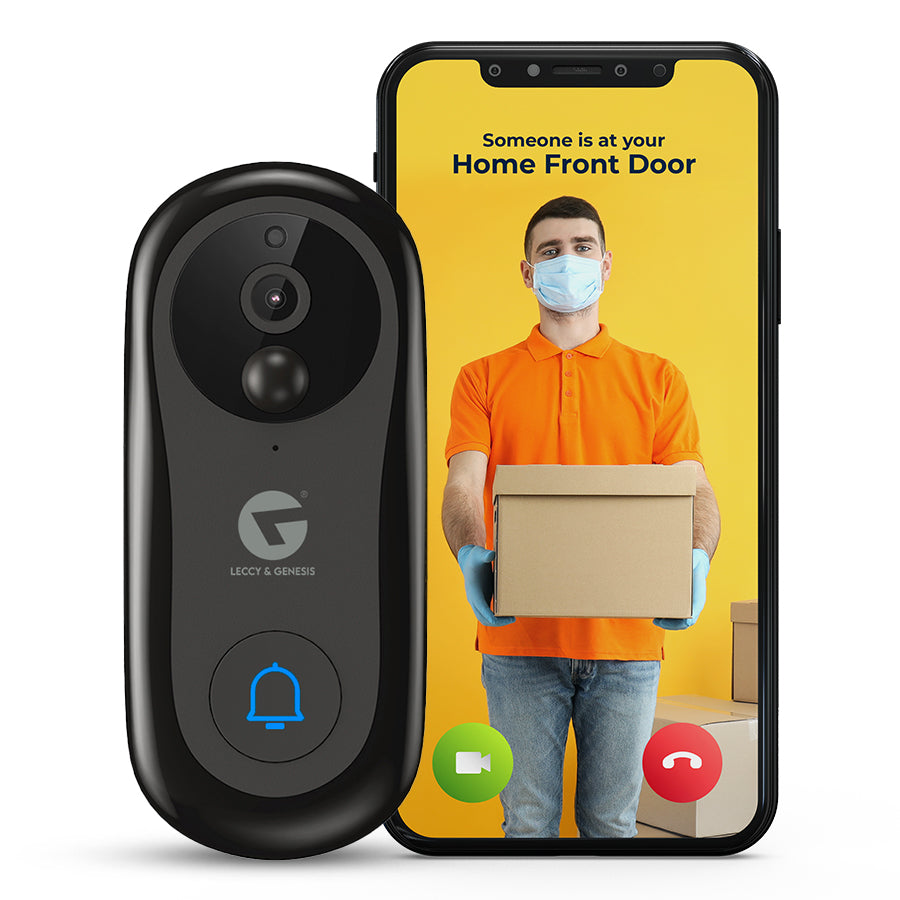 Free Shipping

3 Years Warranty

COD Available

7 Days Return
L&G Smart Video Doorbell is designed using the latest German technology that fits Indian standards. Is the buzzer ringing, and have you got a "visitor-at-the-door" alert on your phone? Don't worry. We promise you the best two-way communication at your doorstep. You can now talk to your guests, see them clearly, and check your front door from any distance with our innovative and path-breaking sleek and smart WiFi video doorbell. We bring you the fantastic, secure, and convenient Smart video doorbell with its megapixel full HD camera!
Now, talk to your visitors and see them from wherever you are. You will get a super sharp clear-live video of whoever stands on your doorstep through the wireless doorbell. Ensure personal safety with the fully secure HD camera that allows you to communicate with people in real-time through an Amazon Alexa or Google device, Smartphone, or tablet via the internet. 
Full HD 1080p Camera with Real-Time 2 Way Communication:

This wireless doorbell comes with a full HD security camera which allows you to see, hear and talk to people in real-time from your phone/tablet or Alexa and Google Devices connected to the internet.
Motion Detection Alerts:

The sleek rectangular video camera in the doorbell records each and every movement and is equipped with a sophisticated motion detector with different levels of sensitivity and motion detection alerts. All the people who have configured the doorbell instantly receive snapshots and notifications of the movements and activities around the main door safeguarding the home residents.

Colored Night Vision: Most video doorbell cameras reflect a black-and-white silhouette at night, but we offer you colored night vision through our smart video doorbell. The video bell comes with an Infrared Night Vision camera that reaches up to and records explicit videos to 22 feet. Moreover, it is easy to see who it is! Even when the light is low, the night vision mode is set into motion, and you can see and talk to people clearly through the phone. Get colored views of the people standing on your doorstep and communicate. We worry for your safety and security and promise to keep you guarded.
Low Battery Reminder:

Many times, the alerts do not go off because of a low battery, but this doesn't happen with the Leccy & Genesis WiFi doorbell. It beeps a warning and low battery reminder if it needs recharging.

Anti-theft Alarm:

If anyone tries to fiddle with the doorbell or tamper with its working, an alarm blares instantly, and corrective steps can be taken.

Free Cost Chime:

Get a complimentary chime inside the box. It comes with a simple installation setup, just plug the chime into a socket and pair it with your video doorbell. Comes with 50 different ringtones & 5 level adjustable volume controls from 0dB to 100dB.
Long Battery Life: This smart bell for home is equipped with 18650 high-capacity rechargeable batteries, the doorbell can be used for about 2 months on a single charge, and it can be charged through the doorbell adaptor. The battery information can be consistently seen through the mobile APP, so you don't need to worry about forgetting to charge.

Compatible with Alexa and ok Google:

L&G Smart Video Doorbell is compatible with Alexa & OK Google. You can operate your front door activity by giving command to Alexa

Hassle-free Installation :

The product is free of wiring. You have to plug in the system with the easy "do-it-yourself" steps, and it starts sleuthing.
| | |
| --- | --- |
| Connectivity: Wi - Fi | Color: Black |
| Weight: 192 G | Warranty: 3 Years |
| Angle of View: 148° Wide Angle | Dimensions: 14cm x 6.1cm x 3.38cm |
| Video: Full HD 1080p with IR & Colored Night Vision | Battery: 18650 Rechargeable Batteries (2 battery required & included) |
| Users: Multi-User Sharing | Manufacturer: Urja Smart Automation |
| Included Components: Doorbell, Batteries, Screw Kit, Chime, Manual | Supported Devices: Android/ iOS, Fully Compatible with Alexa, Ok google and Echo Devices. |
Ques- Can we install on painted wall with tape or it will fall ?
Ans.It has 3m tape at the back mounting panel , 3m tape can stick to wall you just need to make sure wall is properly cleaned before you install mounting panel of doorbell.
Ques- Do I need to give any continuous power or its battery operated?
Ans. It's optional, as it's truly wireless and it works on battery but you can also give continues power.
Ques-At a time how many Mobiles can be connected?
Ans.You can connect as many as you want but it works fine at 10 devices simultaneously.
Ques-Is the chime too battery powered, maximum distance between bell and chime?
Ans. Chime directly connects to socket its not battery operated, distance between bell and chime is around 15 to 20 feet's depends on obstacles like walls otherwise range is pretty good.
Ques-If 5 mobile devices are connected and 1 Answers bell, does ringing stop on other mobiles?
Ans.Yes because its already answered
Ques-Can I use it without chime?
Ans.Yes you can use it without chime
Ques-How far maximum we can install it from modem to get good connection?
Ans.As it works on 2.4 GHZ so range is same as your phone or device connects with 2.4 GHZ.
Ques-Do I need to buy a ringer separately?
Ans.No , ringer use to come in the box.
Ques-How much is the Camera pixel?
Ans.2 Megapixel
Ques-Is there a subscription charge too?
Ans.No there is no subscription charges.
Ques-Does it support support 5ghz Wi-Fi or only 2.4ghz Wi-Fi?
Ans.It only supports 2.4 GHz as 2.4GHz has more coverage than 5Ghz.
Ques-When someone press the door bell, will Alexa echo show the video feed automatically or I have to press any button in echo to see the video feed?
Ans.You don't need to press any button, it will show direct live feed of someone press the button.
Ques-Can I use it without internet?
Ans.It works as a normal bell without internet, if someone rings the bell then indoor unit (chime) will ring.
Ques-Does it support continuous recording to be able to go back and see what happened?
Ans.Yes it supports but for particular time it can store all pictures, short videos in memory card which is optional.
Ques-Can we configure multiple chimes?
Ans. Yes you can connect multiple chimes
Ques-Is it possible to have the doorbell as well as chime permanently connected to power to avoid battery changing hassle?
Ans.There is no battery in chime it's like connected permanently. And yes you can give continuously power to outdoor unit which main doorbell unit so that you don't need to charge the battery again and again. You can order adapter version from Amazon which comes with adaptive charging adapter as well.