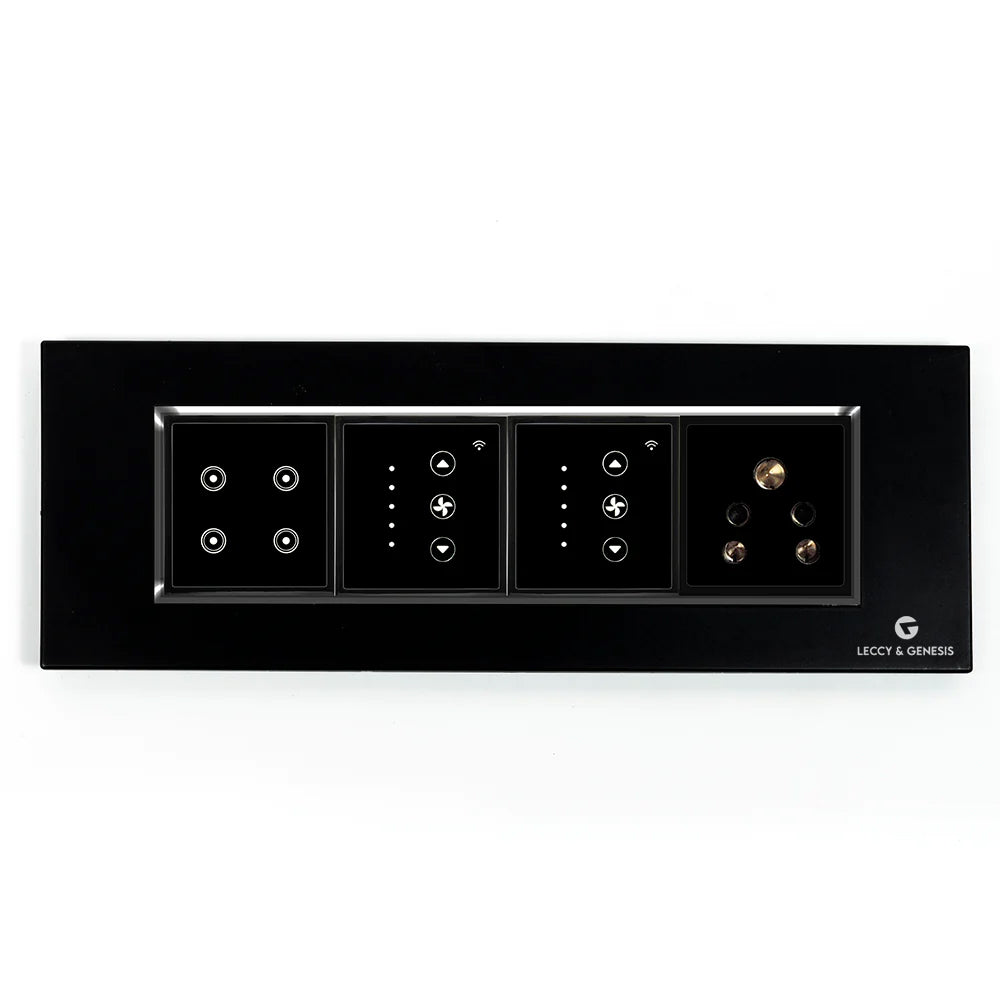 Free Shipping

3 Years Warranty

COD Available

7 Days Return
8 Modular Smart Touch Switch Board

It can be connected with WiFi (2.4 GHz) and can be controlled with your Android and iOS smartphone. Wifi Switches also supports Voice Assistants like Alexa and OK Google and can be controlled remotely from anywhere. Smart Switches can be control and manage via Smart Life App.

Package Includes- 2 Smart Switch, 2 Smart Plug, 8M (Horizontal) Module Switch Plate (Roma Fit) DIY Installation and Easy to Use: Easy installation like any standard electric switch. Voltage range: 110-240 VAC, 50/60 Hz
Wifi Enabled: Wifi Smart Switches can be connected to WiFi (2.4 GHz) and they can be controlled with your smartphone (Android/iOS) from anywhere in the world.
ALEXA/ GOOGLE/ SIRI SHORTCUT: Smart Touch Switches can be connected and controlled with Voice Assistants like Alexa, Google Assistant, and Siri Shortcut. Smart touch switches support voice commands.
ON/OFF SCHEDULING: These wifi smart touch switches can be scheduled to turn on/off at the user-defined time.
ROMA FIT: Smart Switch Boards can easily be installed in place of your existing smart switch plates and no re-wiring is required. Simple and easy installation.
TEMPERED GLASS PANEL: Smart Switches come with a tempered glass front panel that looks good and is very durable.
EASY TO INSTALL: These smart switches are retro-fit and roma-fit. You can install our smart switches in place of your existing wiring. If you need any assistance to install it, then you can contact us on +91-81-81-81-0654 or +91-844-77-46047.
| | |
| --- | --- |
| Connectivity: Wi - Fi | Color: Black & White |
| Weight: 360g | Warranty: 3 Years |
| Users : Multi-User Sharing | Dimensions: 262 x 90 x 45mm |
| Frequency: 865-867 MhZ | Input: 160-270V,50/60Hz |
| Material: Tempered Glass Panel, Polycarbonate Body | Supported Devices: Android/ iOS, Compatible with Alexa, Ok google and Echo Devices. |
| Components : Smart Switch Plate, Manual | Manufacturer: Urja Smart Automation |
Ques- Can I add this to apple HomeKit?
Ans. No you can not add.
Ques-Can normal lights, fans and ac be controlled by smart switches?
Ans. Yes, you can control all your home electrical appliances.
Ques-Does this fit existing switch boards?
Ans. Yes, it can.
Ques- Can we use mobile apps to operate lights, AC, fan and other appliances?
Ans. Yes, you can. With the help of Smart Life App, you can operate your electrical appliances anywhere from the world.
Ques- Can this be installed into existing switch plates?
Ans. Yes, you can install it into existing switch plates. Our switches are roma fit and retrofit.
Ques- I am unable to activate the device in Smart Life app on new mobile.
Ans. You need to login with same email on new phone that you were using on older phone.
Ques- How can I control my device from outside my home network?
Ans. You can control electrical appliances connected to Smart Life App using your mobile. Your mobile does not need to be in your home network. Internet must be available on Mobile phone and it can be 2G/3G/4G or WiFi network of some other location.
Ques- Can I customize and order online?
Ans. Please contact our sales team @ 844-77-46047 for customization. Team will help you for the customization and provide option to buy online or order directly.
Ques- How can I claim warranty?
Ans. You can claim warranty by scanning QR code. Then fill the form or you can call directly to our customer support to claim your warranty.
Ques- Which devices are compatible with Smart Switches?
Ans. Smart switches are compatible with Android and iOS Devices.
Ques- Are these compatible with Alexa & OK Google?
Ans.Yes
Ques- How many way are there to operate smart switches?
Ans. You can operate smart switches with 5 different ways: WiFi,Touch, Mobile App and Voice Control.
Ques- Can I create scenes using app?
Ans. Yes, you can create scenes with the help of smart life app.
Ques- Can I schedule lights to turn off/on at specific time?
Ans. Yes, for sure. You can use time schedule feature for that.
Ques- At a time how many mobiles can be connectd?
Ans. You can connect as many as you want but it works fine at 10 devices simultaneously.
Ques- Can this switch be fitted to Old switch plates?
Ans. Yes, Smart switches can be fitted to any switch plates as there are retro fitted.
Ques- How many device can be operated through 2 touch switch?
Ans. You can operate 2 devices with the help of Smart 2 touch switch.
Ques- Can I operate geyser with 2 touch switch?
Ans. Yes, you can operate heavy appliances with the help of 2 touch 16 amp switch.
Ques- Do I need to buy separate fan regulator switch to operate fan?
Ans. Yes
Ques- Can we operate manually?
Ans. Yes, person at home can switch ON/OFF manually. If you have subscribed for notification, you will get a notification in your app when someone manually ON/OFF it.