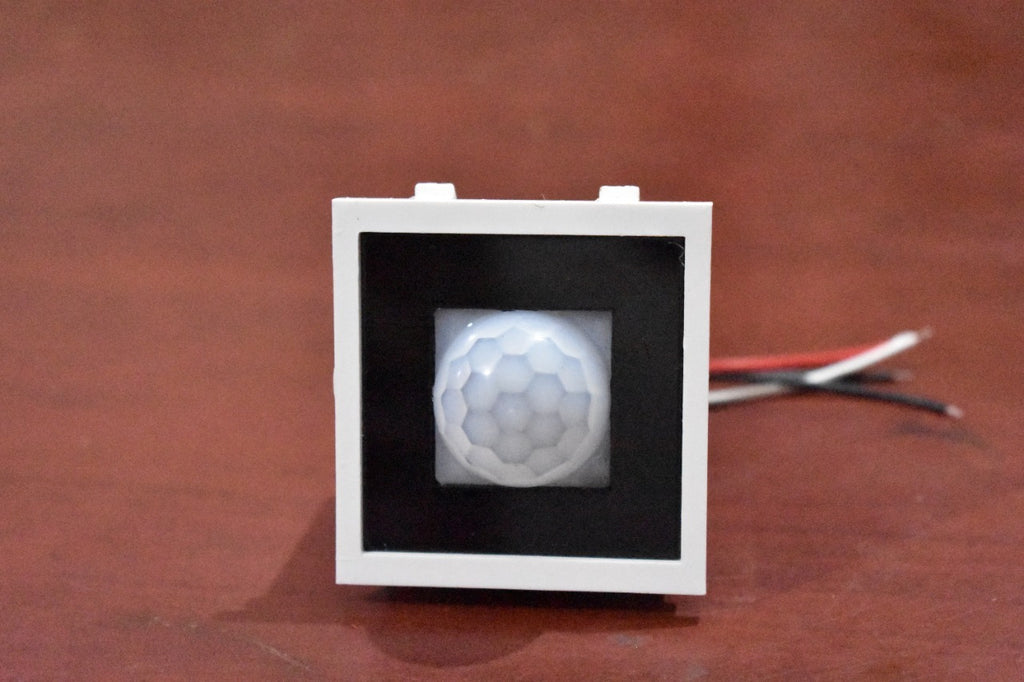 Free Shipping

3 Years Warranty

COD Available

7 Days Return
L&G PIR sensors allow you to sense motion, almost always used to detect whether a human has moved in or out of the sensors range. It is designed by German engineers to meet Indian standards. They are low power and low cost, pretty rugged, have a wide lens range, and are easy to interface with. When a person is detected in its range it Turns "ON" the LOAD (Load can be light/exhaust/Fan) and when the person leaves its range it switches "OFF" the device after a desired delay.
Good solution for energy saving by motion sensing & easy in installation. Delay adjustment can be done between 1 Seconds - 5 Minutes & Adjustable Lux: turn on the lights during the day or night asyou're your requirement .
When people walk into the sensor range,and the sensor can detect the spectral change of the human body infrared ray,during this time,the switch will connect the load automatically until the person leaves the sensor range.
Through the photosensitive control , it will not turn on the lights in the daytime or light environment, but also can be adjusted in any lighting environment sensing lights .
You can use L&G Motion PIR Sensor Washroom, Toilets, Entrances, Kitchen, Corridors, Stairs, Store-Rooms, Warehouses, Changing Room, Powder Room, Wardrobe & many more Similar places.
| | |
| --- | --- |
| Fitting: Roma Fit | Color: White |
| Weight: 45g | Installation Height: 1.5-3.5 m |
| Components : PIR Motion Sensor, Manual | Dimension: 48x 48 x 30mm |
| HF System: 5.8 GhZ | Input: 220-240V,50/60Hz |
| Detection Distance: 2-16m ( Adjustable ) | Detection Angle: 360 Degree |
Ques. What is PIR ?
Ans. PIR stands for Passive Infrared Sensor. A passive infrared sensor is an electronic sensor that measures infrared (IR) light radiating from objects in its field of view.
Ques. What is the function of PIR Motion Sensor?
Ans. Detects motion whether human has move or not.
Ques. In how much time motion sensor lights off?
Ans. Light will be switch off after 90 seconds.
Ques. What is the function of pyro electric?
Ans. Detect level of infrared radiation
Ques. Why would I want to use a sensor?
Ans. Most the people prefer to install sensor products to save energy and as a result, they reduce energy costs. Sensors also provide convenience for hands-free lighting.