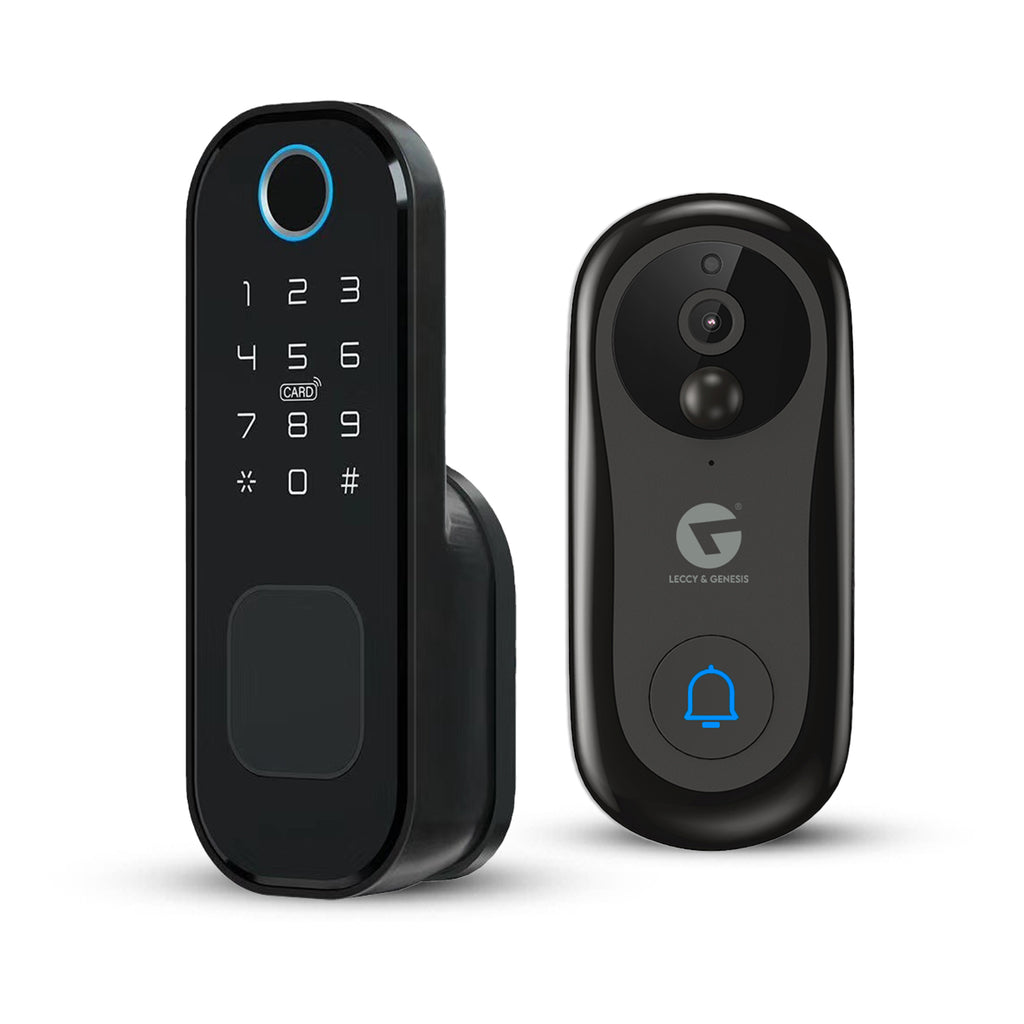 Free Shipping

3 Years Warranty

COD Available

7 Days Return
L&G Smart Security combo help you to check your door activity from anywhere. You can check who's at the door with Smart Video Doorbell & you can open your Smart Doorlock remotely. L&G Smart devices are designed using German technology that fits Indian standards.
Is the buzzer ringing, and have you got a "visitor-at-the-door" alert on your phone? Don't worry. We promise you the best two-way communication at your doorstep. You can now talk to your guests, see them with Smart Video Doorbell and provide them Smart doorlock access. You can give access to visitor according to your preferences e. g. Temporary Access for House helpers, Permanent Access to Family Member & one time access to your Guest.
L&G Smart Doorlock empowers you with 5-in-one unlock options.  You can unlock your smart doorlock remotely. A sleek, elegant design that complements any interior or exterior door for residential homes, apartments, or commercial offices.
Full HD 1080p Camera with Real-Time 2 Way Communication: This wireless doorbell comes with a full HD security camera which allows you to see, hear and talk to people in real-time from your phone/tablet or Alexa and Google Devices connected to the internet.
5-in-1 Unlocking Options:The door lock comes equipped with 6 different unlocking methods; Fingerprint Scanner, Numerical Passcode, App, RFID Card (included in the box), and Emergency Keys (included in the box).
Colored Night Vision: Most video doorbell cameras reflect a black-and-white silhouette at night, but we offer you colored night vision through our smart video doorbell. The video bell comes with an Infrared Night Vision camera that reaches up to and records explicit videos to 22 feet. Moreover, it is easy to see who it is! Even when the light is low, the night vision mode is set into motion, and you can see and talk to people clearly through the phone. Get colored views of the people standing on your doorstep and communicate. We worry for your safety and security and promise to keep you guarded.
Suitable for All Doors: Despite the type of building and usage, these doorlocks are suitable for all; best suited for WOODEN and METAL doors, and it can be used for residential and commercial purposes.
Low Battery Reminder: Many times, the alerts do not go off because of a low battery, but this doesn't happen with the Leccy & Genesis WiFi doorbell & Doorlock. It beeps a warning and low battery reminder if it needs recharging.
Compatible with Alexa and ok Google: L&G Smart Video Doorbell is compatible with Alexa & OK Google. You can operate your front door activity by giving command to Alexa
Different levels of access: There are three different levels of access provided by the Doorlock: Permanent access, which can be given to family members; temporary access for house service and domestic help; and One-Time Access for guests and unexpected visitors. For each session, 100 fingerprints, 100 passcodes, and 100 RFID cards can be used.
Smart Video Doorbell

Smart Doorlock

Connectivity: Wi - Fi

Model: R5

Dimensions: 14cm x 6.1cm x 3.38cm

Dimension:

35*59*156mm

Angle of View: 148° Wide Angle

Type of Fingerprint Sensor: Semi-conducting Fingerprint Reader

Video: Full HD 1080p with IR & Colored Night Vision

Unlock/Open door mode: Fingerprint, Password, RFID Card (Smart phone),App Unlocking, Mechanical Key.

Battery: 18650 Rechargeable Batteries (2 battery required & included)

Password Length: 6-12 bits of password for opening the door

Users: Multi-User Sharing

Fingerprint Storage Capacity (SC): 100 fingerprints

Supported Devices: Android/ iOS, Fully Compatible with Alexa, Ok google and Echo Devices.

Material: Aluminum alloy finish Black

Included Components: Doorbell, Batteries, Screw Kit, Chime, Manual

Included Components: Doorlock, Batteries, Manual