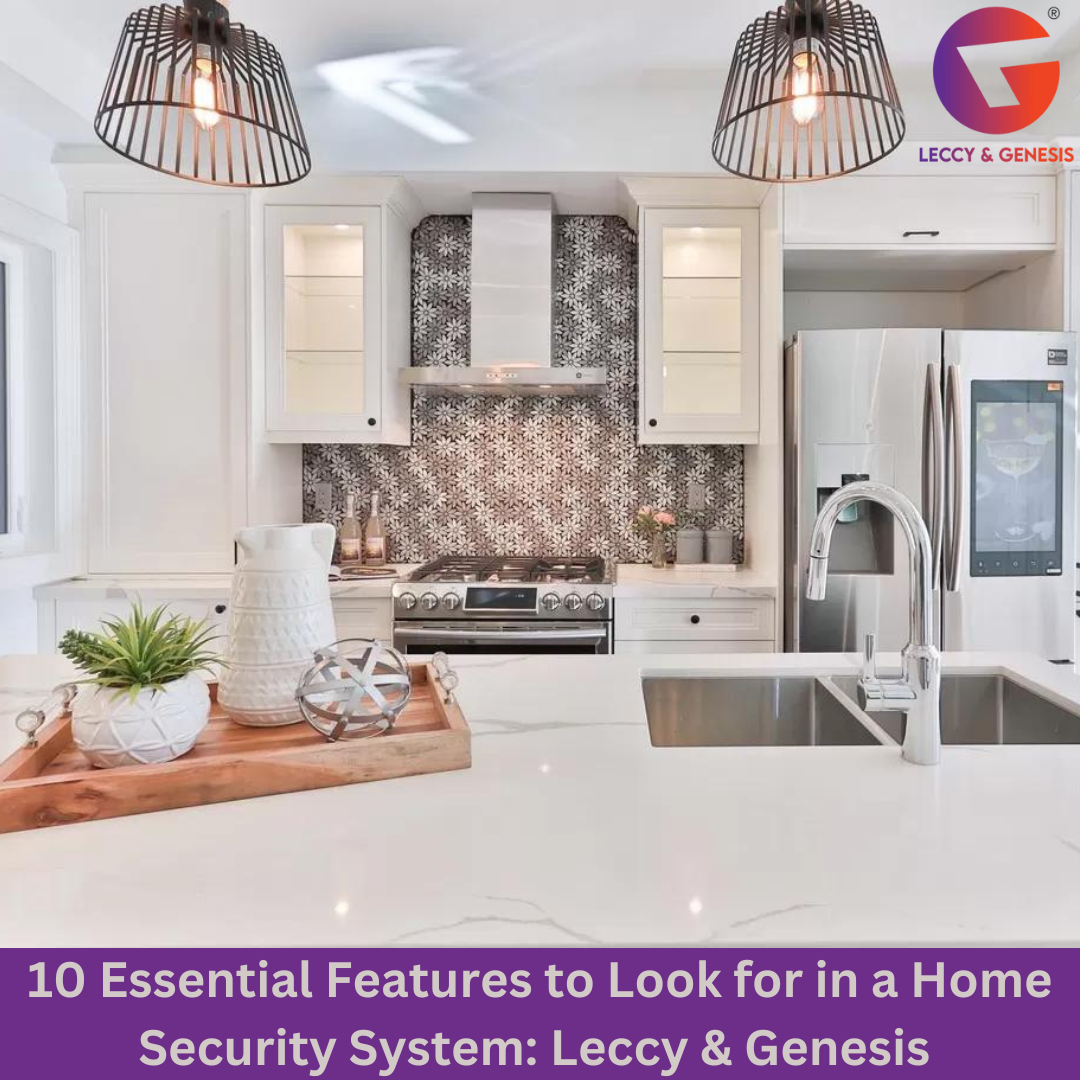 10 Essential Features to Look for in a Home Security System: Leccy & Genesis
When looking for a reliable home security system, you need to check out the salient features of the home security system offered by the dependable Leccy & Genesis. To elaborate further, we bring you ten essential features to consider in a Home Security System so that your home stays protected and safe:


24/7 Monitoring of the Home

A reliable home security system offers round-the-clock 24/7 monitoring to ascertain no security breaches. This also ensures the owner is alerted well in time, an emergency can be quickly addressed, and authorities are alerted if necessary.



Burglary Detection

Thieves and burglars are a constant threat in every home. You need a Home Security System with a smart video doorbell, smart door locks, motion sensors, smart lighting, door and window sensors etc. Any attempt at unauthorized entry can be detected and thwarted instantly because the sensors will trigger an alarm and alert the owner that someone is unlawfully trying to enter the premises.



Alarm System

A reliable home security system includes an instant alert or loud alarm to warn the neighbors and the owners if someone tries to tamper with the smart devices or break into the house forcefully. The loud alarm draws instant attention and scares the intruder by deterring them with the loud sound.



Security Cameras

The smart home Security System includes a smart video doorbell and a digital door lock with high-quality, high-resolution security cameras. These can record videos, have crystal clear colored night vision, high-definition recordings, wide-angle coverage, clear vision to 22 feet and other qualities that can help you monitor your property. You can get clear footage for identification purposes.



Motion sensors

A Home Security System combines indoor and outdoor motion sensors. These sensors are very vigilant and can detect minimal movements, triggering an alarm and warning the owner about potential intruders. The system can be easily customized to prevent false alarms, minimize panic and still have the relevant sensitivity to alert the owner about the presence of strangers and unexplained threats.



Smart Video Door bells and Window Sensors

The home security system with door and window sensors detect movement whenever the door or window is tampered with. In fact, all the accessible entry points of the house can be protected through the door and window sensors. Thus, if you want an extra layer of protection for your home, check this feature out.





Mobile Alerts and Remote Access

Sirens and notifications or alarm alerts can deter potential intruders from gaining access into the house. Nowadays, reliable Home Security Systems offer remote access through smart Home Automation. The owner gets mobile alerts and real-time notifications on connected devices or smartphones if any abnormal activity is detected or devices are tampered with. Through this facility, you can ask for help from the authorities, control the system from anywhere in the world, and monitor the Home Security cameras in the smart video doorbell with WiFi or the smart door lock. 



Smart Home Integration


If you need to install an excellent reliable home security system, then get one that integrates seamlessly with other platforms, gadgets and  smart home devices. This will allow you to personalize and automate routines. You can quickly arm or disarm the doorbell according to your schedules by giving voice commands or when you leave the house.

Retro and Roma fit smart gadgets


This is one of the essential features of a reliable home security system. It can be a cumbersome task to change the wiring and replace the switchboards and gadgets to make your home innovative and secure. The retro Roma fit feature in some of India's best home automation products makes them easy to fix and install in every house. 



 

Save electricity and have a user-friendly interface

A user-friendly experience on a good, well-made interface helps the user navigate through the gadget easily and encourages quick arming and disarming of the home security system in no time through an app. Now the user can easily maneuver, check out the camera feeds, and even customize settings without any problem. 
A good home security system can be customized according to personalized needs, and gadgets can be turned on and off at will, helping the owner save power, electricity and money. 
Times are changing, and we need to stay secure and protected by setting up and customizing an excellent reliable home security system to suit our needs. Plenty of brands are available, and you need to thoroughly check them out before deciding what suits your home. Ensure the home security system accommodates different devices and sensors to make your home burglar-proof and safe.