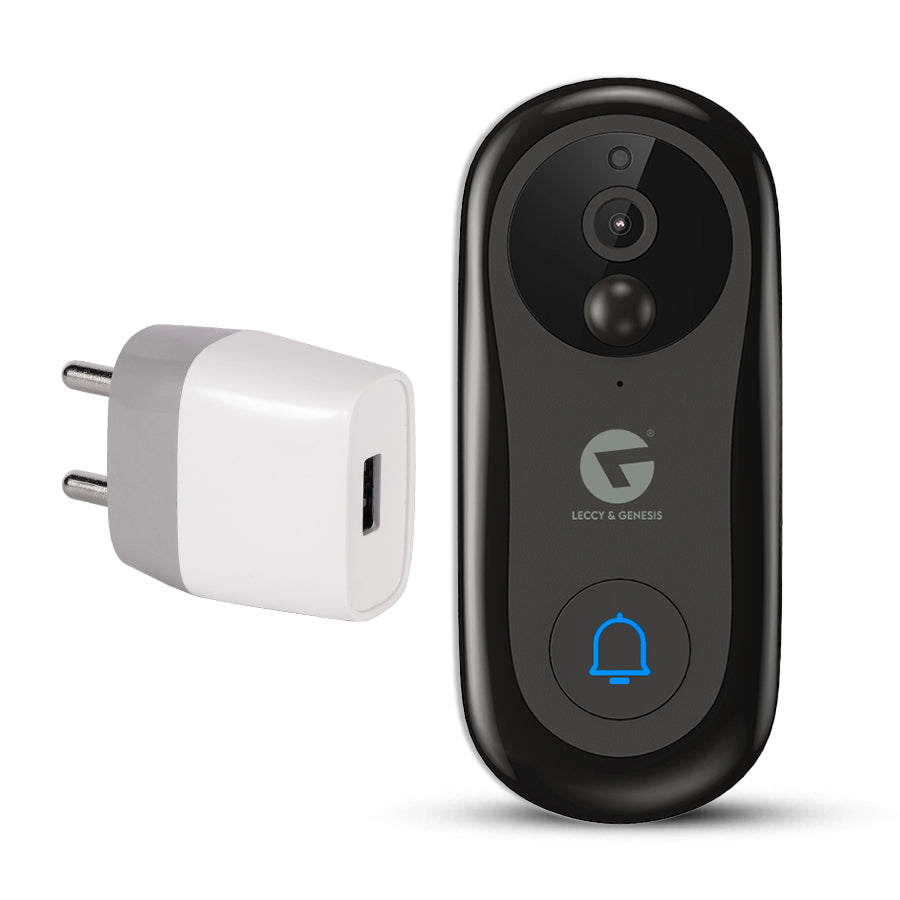 Free Shipping

3 Years Warranty

COD Available

7 Days Return
Get complete control on your front door with this Smart Wireless Video Doorbell. The smart video doorbell is designed by German Engineers to Fit Indian Standards. Equipped with a Full HD camera, this doorbell allows you to hear and talk to your visitors from anywhere in the world without ever leaving your comfort zone. The Doorbell is fully compatible with Android/iOS devices, Amazon Alexa and Echo Devices.
It is the prettiest buzzer for your home! This is what you need for the safety and security of your loved ones at home. This smart video doorbell is a one-time purchase that assures security and convenience. 
The first thing you would notice about this doorbell is –its Design. This sleek, rectangular shape smart device makes it much easier to fit in any size standard doorbell frame. No need to deal with any electrical wirings, it's an easy plug & play, DIY installation product that makes it hassle-free. This product falls in our 'Happy to Use Product Range' based on our customer's experience with the overall product. 
No worry to Drain Out Battery:

Doorbell with adaptor is suitable for those who are often away from the home.. Connect doorbell with adaptor for long lasting battery of doorbell.

Full HD 1080p Camera with Real-Time 2 Way Communication:

This wireless doorbell comes with a full HD security camera which allows you to see, hear and talk to people in real-time from your phone/tablet or Alexa and Google Devices connected to the internet.
Motion Detection Alerts: For more enhanced features, the Video Doorbell comes with an advanced PIR motion detector and motion detection alerts with 3 levels of sensitivity (low/medium/high), which means the Video Doorbell can fully record every movement occurring at your door. The device pushes instant notifications along with snapshots to all configured users of the family if any activity occurs near your door.
Crystal Clear Colored Night Vision Camera: The Infrared Night Vision allows you to see, hear and talk to people from your phone or tablet at night. Under low light level conditions, this wireless Video Doorbell with a camera automatically shifts to the night vision mode and can record videos up to a distance of 22ft, making it safer when it comes to the security of your front door.
Low Battery Alarm:

The Video Doorbell comes equipped with various alerts and reminders. It sends a low battery reminder when the battery needs to be recharged. It also has an Anti-Theft alarm where the Doorbell's alarm goes off and you are notified in case someone tries to tamper with it.

Free Cost Chime:

Get a complimentary chime inside the box. It comes with a simple installation setup, just plug the chime into a socket and pair it with your video doorbell. Comes with 50 different ringtones & 5 level adjustable volume controls from 0dB to 100dB.
Long Battery Life: This smart bell for home is equipped with 18650 high-capacity rechargeable batteries, the doorbell can be used for about 2 months on a single charge, and it can be charged through the doorbell's charging port. You can charge your doorbell with adaptor will be included in your ordered package.The battery information can be consistently seen through the mobile APP, so you don't need to worry about forgetting to charge.

Easy to Install:

This sleek, rectangular shape smart device makes it much easier to fit in any size standard doorbell frame. No need to deal with any electrical wirings, it's an easy DIY installation product that makes it hassle-free.

Compatible with Alexa and ok Google:

L&G Smart Video Doorbell is compatible with Alexa & OK Google. You can operate your front door activity by giving command to Alexa
| | |
| --- | --- |
| Connectivity: Wi - Fi | Color: Black |
| Weight: 192 G | Warranty: 3 Years |
| Angle of View: 148° Wide Angle | Dimensions: 14cm x 6.1cm x 3.38cm |
| Video: Full HD 1080p with IR & Colored Night Vision | Battery: 18650 Rechargeable Batteries (2 battery required & included) |
| Users: Multi-User Sharing | Manufacturer: Urja Smart Automation |
| Included Components: Doorbell, Batteries, Screw Kit, Adaptor, USB Cable, Chime, Manual | Supported Devices: Android/ iOS, Fully Compatible with Alexa, Ok google and Echo Devices. |
Ques- What is the use of adaptor plug?
Ans. Adaptive charger is used to charge battery.
Ques- Is the chime needs battery?
Ans. Chime does not need battery, chime directly connects to socket
Ques- Does the provided battery is rechargeable?
Ans. Doorbell external unit need batteries which are chargeable.
Ques- How video recording are stored?
Ans. Video recording can be stored with SD card or cloud storage which is available in app itself.
Ques- Does this include the indoor unit
Ans. Yes Chime is included.
Ques- What is included in the box?
Ans. Doorbell, Chime, adaptor, Manual and Warranty Card
Ques- How to pair the chime?
Ans. Keep chime volume button pressed then press doorbell button to pair.
Ques- Could we observe outside door any time, even if no one at door
Ans. Yes, you can turn on cam from app and see live video/audio.
Ques- Does notification auto cut off on all phones/and chime, if one phone picks the bell call?
Ans. Yes
Ques- Do I need to give any continuous power or its battery operated?
Ans. It's optional, as it's truly wireless and it works on battery but you can also give continues power.