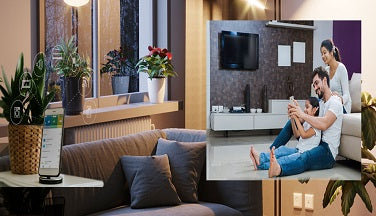 Enhance Safety and Convenience with German IoT Smart Switch Boards | Leccy & Genesis
The best smart switch board incorporates advanced German IoT technology features and helps enhance safety, functionality, and convenience for users. Let us see why we should use Leccy & Genesis smart switch boards in our residences or offices:
Design and Build Quality 
L&G smart switch boards are created with superior German IoT technology to suit  Indian standards. These products, created ingeniously by German engineers, have an appealing physical design and excellent quality. Also, these smart devices are durable, robust, and aesthetically pleasing. They blend beautifully with the interior and home decor and can withstand daily routine usage without compromising functionality.
Voice Control
L&G Smart Switch Board can be integrated with voice assistants such as Google Assistant, Amazon Alexa, or Apple Siri to provide an excellent hands-free experience. The total control of the home appliance is in the hands of the users, who can manipulate the connected devices, gadgets, and lighting with voice commands. 
Remotely Managed
Leccy & Genesis another best feature is remotely control. Leccy & Genesis, with its advanced features, permits users to control the lighting and turn appliances or lights on or off from anywhere with the help of a smartphone app or voice assistant if they are plugged into the L&G switch board. The ability to control the your appliances from a distance is a basic necessity and a fundamental feature of a good, reliable smart switch board. You can now switch your gadgets on or off from any distance using Best Smart Switch Board. Isn't this a boon for all those people unable to get up repeatedly to control the lights? 
Wireless Connectivity
L&G Smart switch boards can be easily connected through Bluetooth, Wi-Fi, or other wireless technologies and can be operated via tablets, smartphones, voice commands, or other smart home systems. The best smart switch board in India encourages seamless communication and connectivity options and offers control between several devices.
Retro and Roma Fit
L&G WiFi Smart Switch Boards can be easily installed into the present wiring of the house. The customer needs to know that no rewiring is required because of the compatibility and versatility of the smart switch board.
Expandability and integration 
You don't have to keep buying smart plugs for your gadgets. Plug your appliances into the best smart switch board by Leccy & Genesis and avail of the compatibility and expansion with other smart home devices or ecosystems. This feature has the flexibility to permit the seamless integration of various devices with your home ecosystem, thus helping you quickly create a comprehensive smart home system. 
User-Friendly Interface
 A well-designed, intuitive user interface in a WiFi switch board is essential for a good user experience, and this includes easy configuration, smooth setup, and total control of the switch board. The control panel or the app used on the smartphone needs to be user-friendly and accessible to everyone so that tech-savvy and non tech-savvy people can use it easily. Imagine having a smart device that a teenager and an older adult can operate simultaneously. 
Scheduling and Automation
Touch switch boards are flexible and allow users to set timers and schedules to turn lights or appliances on and off automatically, allowing the user to save energy and power. Also, this increases safety and security as the devices can be switched off at any time, thus creating a comfortable home environment. The best smart switch board by Leccy & Genesis has exceptional automation capabilities, allows users to customize timings according to needs, and increases home management efficiency. Moreover, it is convenient and saves time by automating repetitive tasks.
Energy Monitoring
The best smart switch board controls power usage and has energy monitoring capabilities. Now, users can analyze and track the energy consumption of the connected devices and make informed decisions about power usage. You can now identify potential areas that can be tapped for energy efficiency improvements. Best smart switch board enables easy tracking and optimization of energy usage.
Group Control
Advanced Wireless switch boards enable the control of multiple devices simultaneously with a single command. You can turn off all lights, turn on the AC, lower the thermostat, and turn on the smart door lock instantly without running around. Isn't that wonderful?
Customized Switch Board
The best Smart Switch Board by Leccy & Genesis can be customized according to the customer's needs and also comes with a 3 year warranty. Now you can get the color, labeling, switches, or modules added or removed as per your needs. Once the company knows the specifications, the switch board can be customized to create a new modular design and handed over with a warranty to add to its reliability.
The best smart switch boards are compatible, can be seamlessly integrated with other smart home devices, and give centralized control through a unified platform to the user. The Wireless switch board is compatible with various electrical appliances and devices supporting different voltage and current requirements. Hands-free control of devices with voice commands increases convenience and accessibility. These advanced features create an excellent touch switch board offering automation, energy efficiency, convenience, and improved control over connected devices without affecting the basic functionalities.