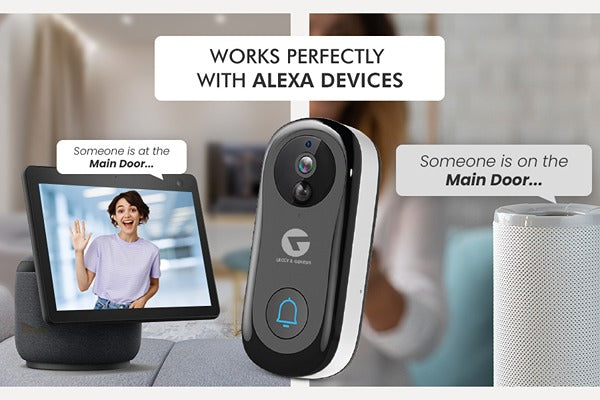 Best Smart Video Doorbell in India
Smart video doorbells are the new "electrical" security personnel that guard homes. With the help of their tiny built-in pinhole camera, the best smart video doorbell in India lets you keep an eye on everyone approaching your door. Is there any better way to increase all-around security?
Several brands are available in the markets for you to choose from. Most of these Wireless video doorbells allow the user to click snapshots, video recording and WiFi connectivity. They alert you on smartphones through an app whenever the doorbell rings. With their outstanding capabilities, smart doorbells are a must for a safe and secure house. To help you keep an eye on what's happening on the other side of the door, we've put together a list of the top smart doorbells: 
Leccy & Genesis Smart Video Doorbell: 
The Leccy & Genesis smart video doorbell is highly popular all over the internet. It is an excellent surveillance option that contributes to the security and safety of a home. The company offers Smart WiFi Wireless Video Doorbells, smart door locks, and smart switches at very reasonable prices.
1. Features a full HD 1080p camera offering crystal clear day and night visuals up to 22 feet
2. Multi - User Sharing with No Hidden Charges. You can add upto 10 devices at a time.  
3. The superior built-in microphone permits real-time 2-way communication from anywhere.
3. A wonderful safety gadget to own because of its reasonable pricing and remarkable qualities. This is DIY Solution. You can install it by yourself in few minutes. 
4.
L&G smart video bell
offers an excellent infrared HD camera with crystal clear
colored night vision
.
5. The superior viewing angle offers a clear picture of the person till 22 feet away, and the microphone permits two-way communication from long distances.  
6. Moreover, the WiFi doorbell can be configured with any device and responds to Alexa, Echo, Google assistants, etc., with its superior microphone. 
7. The video doorbell has motion sensors that detect every slight movement by raising the alarm to warn the owner.
8.  Also, the portable doorbell can be fit in a door of any size and can be carried wherever you want because it is lightweight.
9. The user can adjust the volume on the best Video Doorbell with free chime with 50 ringtones.
Arlo Video smart doorbell: 
This smart video doorbell belongs to a reliable electronic brand from San Jose. This electronic home security and electronic goods has established a good name in India and offers doorbells, retail cameras and security systems. The best smart video doorbell provides a clear HDR-quality view and detects any motion at the door. You can speak and hear the visitors clearly, and leave a pre-recorded message for the visitors.
Amici Smart Wireless doorbell:
The doorbell belongs to AmiciKart, an electronics company in Noida, Uttar Pradesh and offers a wireless range of 300 m with a strong signal penetration. There are 3 volume levels with 32 musical tones for the user, and the gadget can tolerate dust, heavy rainfall and high temperature. 
Godrej security solutions video door phone:
The reliable Godrej company offers the Godrej Security Solutions Video Door Phone, electronic items, smart plugs and other home decor appliances. The gadget has a coloured indoor monitor with a high-resolution pinhole camera. The outdoor unit has an LED that dispels darkness and improves night vision, so you can see who is at the door and talk to the visitor from inside. The bell is vandal-proof with a strong construction and DND function. Feel free to adjust the brightness, contrast and volume according to your preference.
Hikvision video door phone:
Hikvision from Hangzhou, Zhejiang, is very popular in India for smart video doorbells, CCTV cameras, door phones, etc. The Hikvision Video Door Phone is a sound intercom system that permits a clear view of the person at the door. The infrared LEDs and pinhole camera improve vision during day and night. The doorbell offers a remote unlocking button inside the home if an electronic door lock is installed. The gadget comes with a picture storage feature as well. 
Qubo Wireless Smart Doorbell:
Qubo is a reliable consumer electronics brand that offers WiFi video doorbells, dash cams and smart locks. The doorbell permits a clear view of the visitor at the door and a two-way conversation from inside with the guest. The doorbell is weatherproof, comes with 36 chime tones, and has a do not disturb mode. Moreover, the smart doorbell is equipped with intruder alarms, tamper alerts and visitor video calls. 
But it needs an extra SD card for storage. The doorbell has a visitor detection feature that sends a notification about a visitor at the door before they press the bell. It is compatible with smart tablets, phones, Google and Alexa voice assistants, and other smart gadgets. 
Most smart video doorbells are super easy to use and give visuals on compatible gadgets or smartphones. Many WiFi doorbells are extremely sensitive and have movement-detecting motion sensors to detect any motion outside your door. Moreover, these video doorbells ensure safety with their alarms for all-around protection.
Having the best smart doorbell fixed on the main door is a boon as it enhances the safety and security of your loved ones. So, why not invest in a good reliable Wi-Fi smart video doorbell?