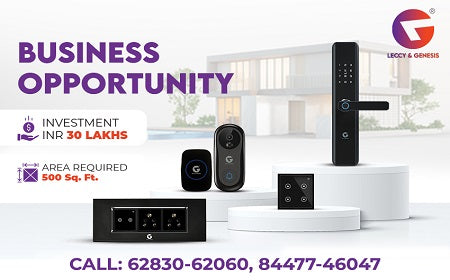 Business proposition of Leccy & Genesis
The world of home automation is very competitive, and many companies are designing smart home products to help people enjoy convenience and security in their living spaces. But our company, Leccy & Genesis, stands apart with its excellent and innovative smart home product range. These effective and expertly designed smart home products are created with German engineering to fit into Indian standards and are irreplaceable.
Why should you be a part of the Leccy & Genesis?
1. We offer you an business opportunity to become a partner in different capacities to earn lucratively.        

2. Our company has more than 50 resellers and dealers in the Home automation line and is offering you a chance to be a part of this business. 

3. We proudly claim that we have nearly 5000+ smart homes already set up and are aspiring for more.

4. The smart video doorbell, smart door lock, smart switchboard, and other gadgets devised under the expertise of Leccy & Genesis offer a good lucrative value proposition for dealers and customers alike. 

5. In three years, Leccy & Genesis has established a stronghold in the market with its smart home devices. 

6. Whether it is the D2C platform, reselling, dealership, franchise, or cluster development, you can get amazing opportunities to earn money and keep people safe at the same time. Why not utilize this lucrative platform to earn financial stability, help people save electricity and manage money more effectively? 

7. The huge customer base and a strong internet presence on other selling platforms like Amazon, Flipkart, and India Mart speak of the reliability and dependability of the brand. The workplace productivity, after-sales services, warranty and a well-spread-out target audience indicate that users are a priority for the company.

8. The Smart home products are created with path-breaking innovative German IoT technology, and their elegant and sophisticated designs reiterate their value proposition. 

9. The ease of use, advanced features, superior camera, 6 in one unlocking qualities, aesthetic looks and seamless performance are the aspirational qualities every customer looks out for in a smart video doorbell and door lock. The other products offered by the company are not just an ordinary collection of features but par excellence. Leccy & Genesis assures its resellers and dealers of this perfect platform for its product range.

10. The company offers offline and online support for its customers and dealers.  We are always available and ready to help our dealers and clients. 
To Join Our Team, Click here
You can now approach us to become a reseller, dealer, franchise or a part of our cluster development to resell these products. For this, we are inviting franchisee partnerships. All you need is a 500 sq feet area and an investment of 30 lakhs to gain exclusive territorial rights and be an integral part of the Leccy & Genesis business. There is a high percentage return on your investment if you put your money into this innovative field of Home automation. Safety, security and convenience are the need of the hour!
In this crowded and aggressively competitive home automation environment, Leccy & Genesis sets an example with its excellent and genuinely unique product range created aesthetically with high-class material. 
For end-to-end resolutions and trading in IoT, contact us and elevate your business experience. There are amazing opportunities in the Home automation sector, and you can use our products for Business, Home, Hotel and Hospital niches to make life easier. Our target is world-class, smart home automation, and we invite you to experience how our brain system works. We aim to have 300 resellers in our network and invite you to join our team.