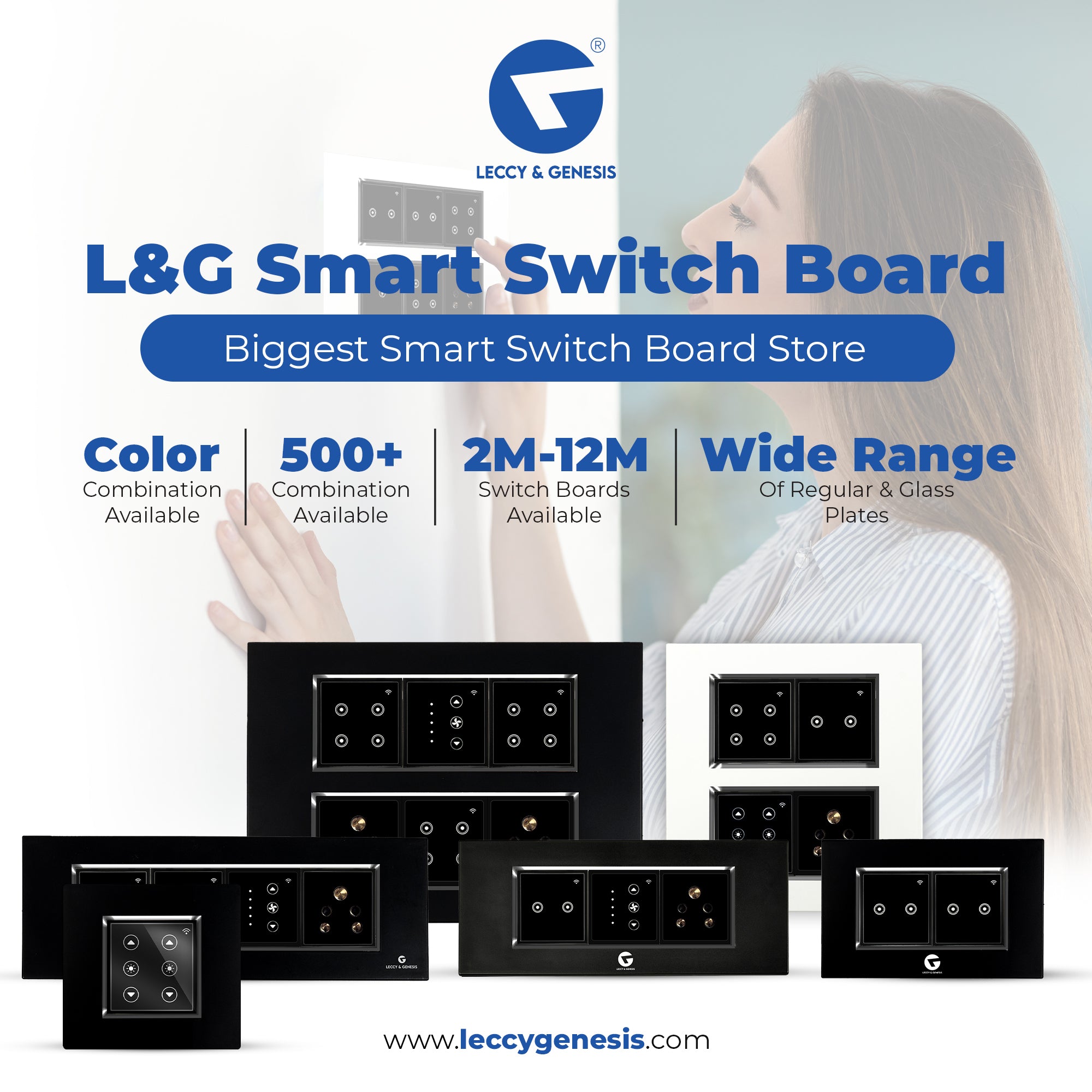 Enhance the beauty and functionality of your home with a smart switch board
Smart switch boards by Leccy & Genesis are the power distribution boards of a home. Their job is to integrate different gadgets together so that a number of home appliances and devices can be plugged into the same hub, and you can convert your ordinary home into a smart ecosystem These innovative switch boards make life easy and convenient through their advanced electrical control and device monitoring. They can be put up in homes and corporate setups to control the smart gadgets according to will. 
The smart glass switch board pleases the eye with vibrant and muted colors like Black, Bronze, and White plates, while the plastic variety is available in White, Grey, Black, and the most attractive Sea green colors to enhance the interiors of your home. But before we delve further into this, let us find out why we need the Leccy & Genesis smart switch board for our homes: 
Energy efficient:
Smart switch boards are an asset to every home. These innovative gadgets help reduce energy consumption to a minimum and you can save excess money spent on electricity bills. The lights, ACs, fans, and other gadgets can be turned off or on by the user with a command. You can now have a super cool room and shut off the AC from the smartphone app the moment the smart door lock shuts. If there is no one in the room and the lights are blaring unnecessarily, turn them off immediately with your smart phone app from wherever you are. 
Retro-fit and Roma-Fit: 
If you are worried about changing the old wiring system in your home with a new "wire-network" to accommodate the smart switch board, then you need not worry. The Roma Fit features of the smart devices make it a super easy job to install them in your home.
You can fit the smart switch board in the same place as the traditional switch board with the same wiring. No changes have to be made to convert your present home into a smart one. Simple and easy installation without altering any internal wiring makes using the smart switch board very easy and convenient. 
Schedule timings: 
Energy-efficient automation is possible because the user can schedule lighting, fans, ACs, and other home devices to turn off or on at pre-fixed times. You can schedule all the lights in the home to shut off once you walk out of the main door of the house. Also, you can shut off the lights in a room if there is no one sitting inside. Customization of schedules is a great way to cut off electrical devices and circuits when not in use. The user just has to define the plan,and the smart switchboard responds to the command. 
Customised boards:
Moreover, you can even customize the smart switch boards according to your preferences. If you want a particular color or get 4 switches of 10 amps incorporated in the switch board, you can place the order and get the needful done. If you prefer a 10-amp switch, a 16-amp switch, and regulators for two fans, it can be done easily. Contact Us and just lay down your specifications, Leccy & Genesis is there to help you with its fully customizable switch boards.  
Remote monitoring of your home with an app: 
If you have plugged your devices into the L&G smart switch board, you can control or monitor them remotely from a distance. Now, its easy to turn appliances, switches, or individual circuits on or off from afar with the assistance of a smartphone app. 
Integrating devices and making a smart home eco-system: 
Smart switch boards are very helpful, and they can provide seamless control and monitoring of lights, security systems, home appliances,smart video door bells and other electrical gadgets. Through the same common hub, the whole home ecosystem can be changed. Its time to turn smart! Leccy & Genesis promises you a smart home with its path-breaking smart switch board. Get one for your house now!
WiFi and blue-tooth connectivity:
The smart switch board can be controlled through a smartphone from anywhere in the world. It just needs to be connected to the blue tooth or WiFi. 
Voice assistants such as Google, Alexa, and Siri shortcuts:
Voice assistants can be used to control and monitor the smart switch board by Leccy & Genesis through voice commands. 
Furthermore, the tempered glass panel on the smart switch board is durable and very attractive. 
Leccy & Genesis is the biggest home automation company in India and offers a number of smart devices to complete your home ecosystem. They offer sleek, stylish, and path-breaking glass and plastic switch boards in a variety of colors. Check out the latest offers by L& G "Buy glass for class" as they say, take a look at the new superior glass smart switch boards and so much more. The customized Retro-Fit Roma Fit smart switch board is an asset to every home and blends in with the interiors beautifully. So,why not get a smart switch board for your home today?