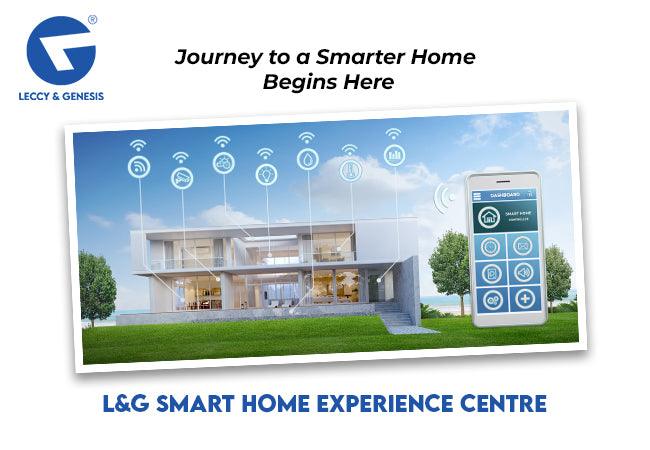 Explore a pioneer in smart home automation technology at our Experience Center
L&G home automation experience centre encourages potential clients to come and experience the company's brand value and extensive product range. This also permits the stakeholders to purview the work of this popular home automation brand. 
Through this immersive and hands-on facility, Leccy & Genesis showcases its ace products and demonstrates automated German-engineered door locks, video doorbells, smart switch boards, etc and their advanced automated technologies on a larger platform. Partners, clients, the public and other industry professionals can come to learn about automated solutions offered by the L&G experience centre. Let us see why:
Live demonstrations : 
Smart Home solutions can be integrated into your homes to make them secure and safe. Showcasing live and interactive demos of products being used and the functioning of the automated systems allows clients to experience working on different devices carefull
Seamless integration :     
Technologically advanced smart gadgets can be seamlessly integrated to make a smart home automated ecosystem. But do people know about this seamless integration? Experience centres can tell people about this through their educative sessions.
Events and educational workshops :
Experience centres are educational hubs where seminars, events and workshops are held regularly. People can inquire about home automation technology and different smart home applications by walking through the events and guided tours
Showcasing cutting-edge technology:
People need to learn more about the home automation devices. They need to know about these path-breaking products, their capabilities and their innovative applications. 
Networking on an industrial platform:
Industries are on the lookout for new products to collaborate with to increase their profits and make a name. The home automated products need to be tailored to suit the specific needs of different clients. 
Personalized Consultations:
Clients and professionals are looking for a common platform to engage with the brand. A smart home plan to fall in with the lifestyle and preferences of their clients is what the industry is looking for. 
Receive personalized recommendations and solutions for an intelligent, connected home from company-trained professionals. Clients can interact and engage directly with advanced tech gadgets for collaborations and customized solutions for their homes and businesses.
L&G has a strong networking system through its technically strong experience centre. It presents a common platform for its clients, home automation experts and other industry professionals to form stronger bonds and professional relationships. 
Home automation can change society's view about security and safety through new products, home automation systems, etc. Showcasing this cutting-edge technology can revolutionize the industrial sector, and people need to be aware of the latest products in smart home automation. 
Experience centres foster networking opportunities for professionals and are a boon for the stakeholders because they encourage best practices and the exchange of more tech-advanced ideas. Leccy & Genesis understands the need for customized solutions for their clients and creates gadgets and devices that fall in with their requirements. 
Home automation can increase efficiency and streamline different processes across several sectors. Individuals need to get familiar with business possibilities in the home automation fields. Experience centres educate businesses and individuals about the wide possibilities of home automation. 
We need to remember practical applications differ from theoretical understanding. Home automation is a wide field, and smart devices are capable of offering plenty of essential facilities to their customers. L& G experience centre provide an amazing educational and practical experience for businesses and individuals by showcasing:
Improving safety and security:
Human work is reduced to a great extent with smart home products, and home automation helps streamline work operations without creating chaos in the home. Convenience is the goal! The fact is that this is a new concept in home automation, and people are still determining the existing Home automation processes and technological dependability. But, we have the answer for you. Visit our experience centre today!
To experience exclusivity and get the best deals and discounts, you need to visit the Leccy & Genesis experience centre. The best team with extensive information on the new world of automation and smart home devices will guide you seamlessly through the whole process. You have some great deals waiting for you here. Go for it; what are you waiting for?