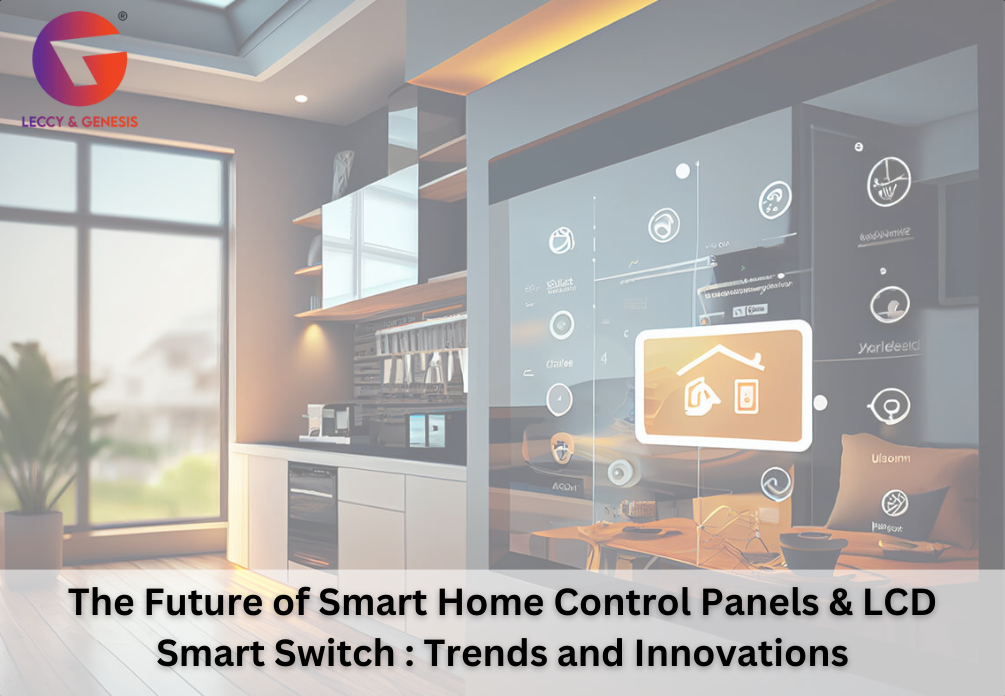 The Future of Smart Home Control Panels & LCD Smart Switch : Trends and Innovations
Home spaces become complete, perfect, and smart with innovative creations such as a Smart home control panel, LCD smart switch, smart door locks, smart video doorbells, and other smart devices. Significant advancements and developments have taken place in the areas of design, performance, and style in these fields. Make your home ecosystem complete with the whole package and understand the future of smart home control panels and the LCD smart switch.
Features of a Smart Home Control Panel
The L&G Smart Home Control Panel can easily fit in a two-modular box and is compatible with BT devices, Alexa voice service, WiFi, ZigBee, and BT Devices. This innovative smart device is a boon for the user, helping them manage smart devices and customize scenes at home with its 4-inch LCD touchscreen, which includes the clock, temperature, date, and weather. 
Single touch to control everything
The Leccy & Genesis smart home control panel and smart switch permit users to use a single touch to control different home appliances. The 4-inch LCD screen is super responsive. With a finger touch on the touch screen, you can control other smart devices in your home.
Improved and responsive Touchscreen Displays are what we need now! Smart switches and control panels have user-friendly interfaces and are very sensitive to touch and commands. Hopefully, in the future, they will communicate back with the user!
The interactive control panels and smart switches feature path-breaking high-resolution touchscreen displays, giving users several control options to manage the smart devices in their homes. 
Believe it or not, this is the future of tomorrow, and the faster you get models with swipe controls, multi-touch gestures, and customized interfaces, the more convenience and comfort they add to your home. 
Easy installation
The 4-inch LCD with the multi-touch screen design is ideal for a modern home and can be packed in standard Indian wall boxes. The in-wall design of the control panel and its IPS with the automatic light sensor can be installed in no time with a super easy installation procedure. 
Compatibility with other smart devices
The L&G smart control panel acts as a central control and manages the home's ACs, lights, curtains, and other smart devices. Once you configure compatible devices together, you can manage them all at once from the control panel. 
Integration with voice assistants
LCD smart switches, LCD Dimmer switch, and smart home control panels are equipped with in-built voice assistant integration, allowing the users to take control of the lighting, security systems, fans, ACs, and thermostats. You must instruct voice assistants like Alexa, Google, and Siri and get the needful done for your home. This has many benefits, and hands-free control and seamless integration are the main advantages of an integrated and well-connected house.
Home control panels and smart switches can be integrated and unified with doors/windows, cameras, doorbells, locks, and alarms. Isn't this a great way to increase security?
Voice control with the built-in Alexa
L&G's home control panel utilizes Alexa voice skills and supports IoT control. In fact, there are multiple ways to control the panel, including voice control, app control, and touch screens. Smart home control panels encourage seamless connectivity. Interoperability and compatibility with other smart home devices help users monitor and control their devices from an Alexa smart home control panel.
Energy efficiency and monitoring: 
Smart switches and smart home control panels can now easily track energy consumption. Energy monitoring features keep a record of every room and individual device. You can now easily check out the usage patterns and the real-time data used. Energy can be optimized better if energy-intensive devices are identified. This is the best way to reduce utility bills. 
Enhanced security and privacy
The future sees smart homes becoming more connected and secure. The control panels and smart switches of tomorrow will integrate authentication, advanced encryption, and secure communication so that there are fewer chances of cyber threats and homeowners have more data control. 
Customizable
The smart scene function of the L & G smart home control panel helps create personalized scenes that can be adjusted according to personal choice. The WiFi smart switch and control panel can be used to control lamps, fans, ACs, televisions, fans, lights, etc. This is an automated, customizable, and modular answer to creating a luxurious home. You can remotely schedule and control the lights with voice assistants or the app and customize their working. Moreover, you can also change dimensions and color according to your choice by laying out your specifications. 
Trends and innovations change with each passing day, though we see amazing mobile app integration, automation, amazing design aesthetics, better user experiences and interfaces, color options, etc. Hopefully, Smart home Control panels and switches will soon become more versatile and be monitored by artificial intelligence, most prominently by voice commands. Improved virtual control and conversational interactions may help the user execute complex routines and commands with voice assistants in the future.