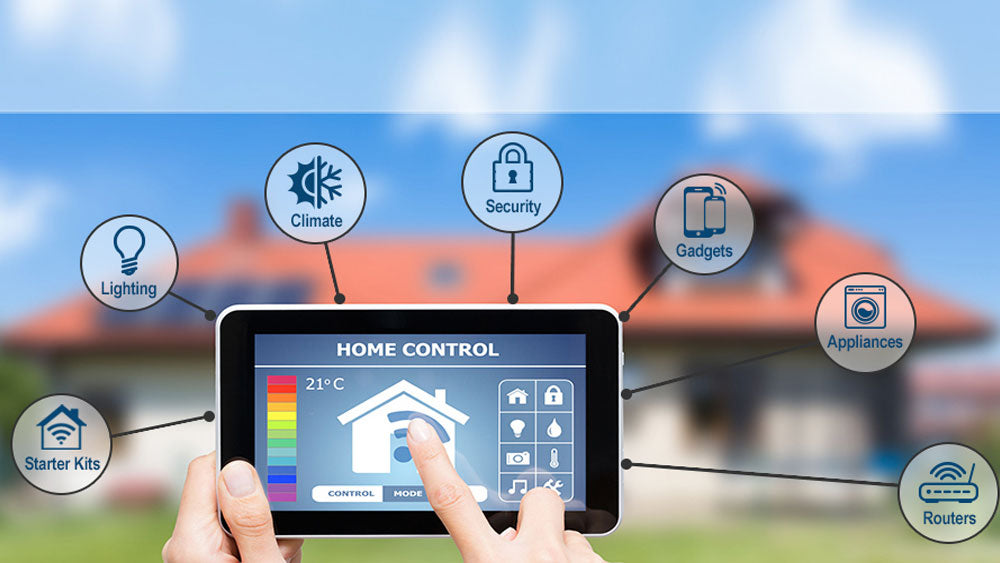 How Can Home Automation Make Your Life Easy?
With the bungling rise in technology since past decades and rise in 21st century, the increase in choices of wide devices filling our basic needs is getting integrated and becoming a responsive priority day by day. As the name suggests the best, Home Automation means combining all of your home devices to function concerning your needs and lifestyle smartly with the help of modern gadgets. Doesn't it seem attractive when appliances, door locks, doorbells, and even your room light works on your voice command? Home Automation fulfils the same wish for all of us, which works on its clients' commands and makes us feel everything effortlessly.
What is Home Automation?
Smart Home Automation Devices is to connect all your electrical devices of your automated place to a standard central controlling unit which overall automates your place depending on the individual user's input. Concerning the entire managing control of your automated appliances, the concept of Home Automation hand-in-hand shift in managing the security policies of your home, as the controlling programming tool as instant examples, door locks, doorbells, smart lights operate by your one-touch action on your smart devices.
Today, smart home devices have completely changed people's lives from all around the globe. Even in the present world, many people are shifting towards home automation and making their place smarter by looks and working pace. There is a wide range of smart devices for smart automation, including smart switches, smart video doorbells, smart door locks, smart plugs, smart fan regulators and motion sensors. So, let's have an eye on the future of smart home automation and understand the concept of how it can impact our daily life.
Targeting the integrated devices
The coming era is the years of technological development that concentrate on smart devices, the rising pace of technical ideas that integrate various smart home devices under one automation control system. This not only makes an individual's home smarter. But, on the other hand, it also makes one's life much more compatible and easier with a view of effortlessness.
 Orders on your voice commands
Doesn't this sound always compatible? When you are just dangling on your bed, and even after the control switch is too far, you can easily control it without even moving apart your body by just your voice command.
Today's rising technology has simplified various means of technology and made our life to flow smoothly and made us technological friendly. Smart home devices by Urja Smart Automation have different home gadgets installed in your home such as lightning, door locks, doorbells, and IR blasters that can work your voice command and act as an integrated, smart automation system that can save precious time, effort and energy. So, your dream to relax on your bed and command your appliances in cold winter is now a dream come true by us. You can choose from a wide range of internationally recommended technology as home automation products and a solution for your budget reliance and comfortable lifestyle. And, of course, how can we forget to mention the security, convenience and comfort to seek our life better.
Giving concern to security of home and offices, a better surveillance
The future history of technology of best smart home devices daily pen down in today's generation, be it festival or a New Year update in technology has now been acting is a priority in which experts might focus on innovating your residential or commercial space further. Security is the primary concern of automation when giving service to clients. The cardinal priority is providing high professional security that has instant alerts when needed and comprises smart security systems consisting of smart door locks. The Wi-Fi controlled smart door lock for the security of your home enables you to smoothly lock and unlock your door from anywhere in the most secure way. Moreover, the video doorbells have infrared night vision, which allows you to see, hear and talk to people from your phone or tablet at night. Under low light level conditions, this smart bell with camera automatically shifts to the night vision mode, making it safer when it comes to the security of your front door.
Increasing energy capability
The most reliable track of how much an individual user depends on home automation system technology, it's utterly factual that you can make your space energy-friendly. The instant example can be taken as an individual can have more concern over-temperature control of your place with a smart programmable thermostat that heeds you up to schedule temperature preferences and then brings out the most compatible setting throughout the day. The update lights and motorized shades can easily be programmed to turn through the option available for evening mode, which can be programmed to switch to an evening mode as the blooming sunsets dawn, or the lights which can automatically be accessible to switch on/off automatically when you enter to leave your living place, so as an individual user of mart automation you should never be worried about wasting energy.