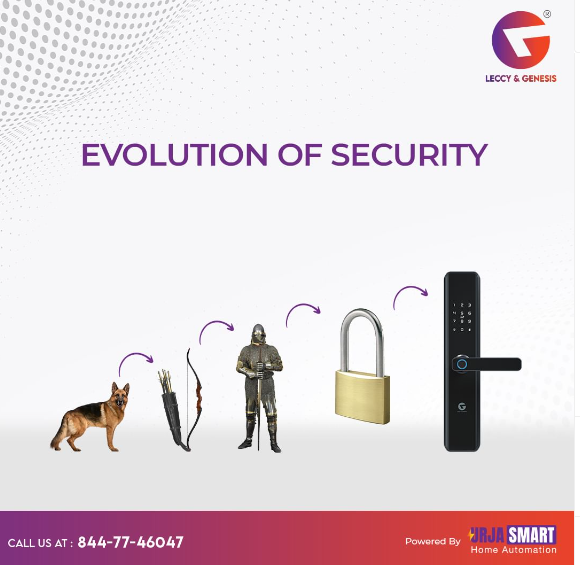 Smart Door Locks for Home
Theft and burglaries are common threats in society, and you need to keep your family protected at all times. It's time you changed your traditional door lock and got a smart door device!

These innovative devices are in style now and are slowly replacing traditional door locks. Why do we prefer these intelligent gadgets? The locks come with advanced features and functions to improve the security of a home. Why don't you get a smart door lock for your home from Leccy & Genesis and stay safe? The locks provide innovative and innumerable opportunities to stay protected, besides locking and unlocking the home.


Smart door locks significantly increase your home's security because they are convenient and easy to use. In fact, they offer the user complete access. You don't have to get up to open the door every time; you can easily manage it with an app or give a voice command to a voice assistant, and voila! The door unlocks! Now, you can enjoy control over your home. We list the most important features of smart door locks:
Keyless Entry: You can enter your home by giving a command on the smartphone app, and the door unlocks on its own. There is no need to carry the traditional keys in your hands or rummage through purses looking for the key to enter the home. Keyless entry options are available for the smart door locks, and they make life convenient and super easy.
Keyless entry is an excellent way to access the home without pushing physical keys into keyholes. Entry or exit from homes is now easily possible with the help of digital, electronic, and smart methods. Wireless communication through voice assistants and digital authentication make entry and exit to a home smooth and seamless Now, there's no running to the door to unlock it. You can use various innovative methods, such as:
A smartphone app can be used to unlock doors controlled via WiFi or Bluetooth.
Numerical Password or OTP
Biometric methods such as fingerprint scans for authenticating the user
Voice commands given through Voice assistants like Alexa, Google, Apple, etc
RFID card
Emergency manual key
Remote access: You can now easily open and shut your main door from a distance. Remote access is easily possible. Strangers and people visiting can be monitored via the high-resolution camera. The handleless door lock allows you to keep an eye on the visitors at the door. Smartphone apps provide the user with remote access and control over the door. Users can monitor the doorway and get notifications about its status. You will get an alert if you leave the door unlocked. Everything is perfectly controlled.
Can be fixed on all doors: Whether it is a building or a home, the smart door lock by Leccy & Genesis can be perfectly fitted on metal or wooden doors. It works equally well for commercial or residential purposes.


Automatic door locking: If the door is left open, do not worry; we have a solution for you! It will automatically lock itself with the smart door lock system. This adds extra safety and security to your home, making family members feel protected. Now, if you are carrying your baggage to the car, you can rest assured that the door lock will shut the door automatically and even open with a tap on your smartphone.


Temporary Access: Are you throwing a party tonight and want to save the constant visits to the door? Give temporary or one-time access to your guests. Your family members and loved ones can be given permanent access, and you can temporarily hand over the access codes to your friends and even domestic helpers for a stipulated period of time. Leccy & Genesis promises to make your life easier when you have loads of things occupying your mind because the smart door lock can be used to quantify 100 passcodes, 100 fingerprints, and 100 RFID cards in each session!


Alarms: Smart door locks are incomplete without their tamper-proof alarms. If someone tries to forcibly pry open a door lock, a security alarm starts ringing right away. Furthermore, this is a great way to prevent door lock tampering or any other form of damage. Moreover, an alarm bell also indicated the necessity of changing batteries. The mobile app shows the status of the battery's charging. Plug in the USB port, and your smart door lock is good to go!


Integration of other smart devices: Smart door locks by Leccy & Genesis can be integrated with the other smart home ecosystems, which makes it easy to monitor and control other devices like smart video doorbells, lighting, etc!


We conclude by saying that smart door locks prioritize safety and security. Encryption adds to the protection and communications, reducing the attempts at break-ins a great deal. In case of a power failure or other eventualities, you can use the physical keys that are part of the system too! Be confident and protected in your personal space. Leccy & Genesis believes in making its family stay safe and protected at all times, so pick a smart door lock and stay secure!