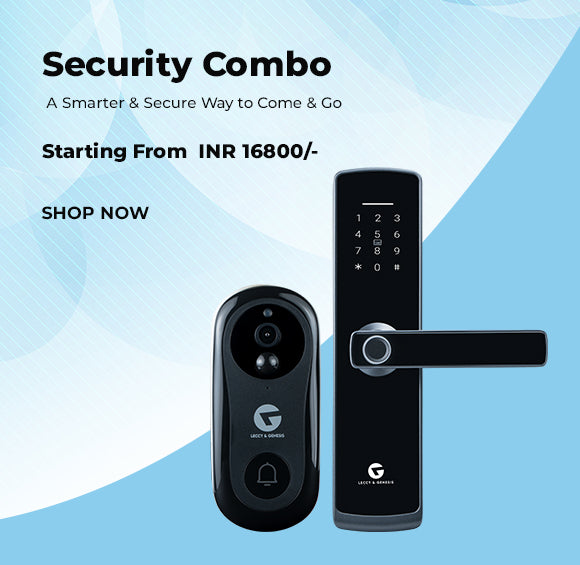 Unlocking Smart Security: L&G Smart Doorlock and Smart Video Doorbell Combo
L&G Security combo:
A smart lock system with a smart video doorbell makes life convenient and increases security. You no longer need the physical keys with the excellent security combo by Leccy & Genesis. Replace the physical keys with a secure door lock and dependable video doorbell in your home, and enjoy the extra dash of protection.
Give selective access:
You can relax because only well-known people with passwords or access codes can enter your home through the door. It's time to bid goodbye to "hiding keys in flower pots." Integrate your smart door locks with the technologically developed security camera of the video doorbell to augment security. Take charge and keep a close eye on the front entrance. It's your home, and you can be selective with who unlocks your door lock! 
Remote Access:
Are you getting a visitor alert on your smartphone? You have to peek into the handset to check out the person standing at the doorstep, and you can even communicate with him before granting him smart doorlock access. 
The smart security combo by Leccy & Genesis helps you check activities at the door from wherever you are. Remote access is possible, and it helps you monitor your door from a distance. Unlocking and locking can be manipulated from anywhere, including checking activities at the door. 
Temporary Access:
Temporary access can be handed over to maids, house helpers, etc. Your family members and close friends can enjoy permanent access. The 6-in-one unlocking option of the L&G door locks improves safety and security.
The smart video doorbell lets you check who is standing at the door, and the door lock allows the visitor to enter. Opening the door from afar is possible with the superior German-engineered smart Door lock and smart video doorbell that fit perfectly with Indian standards. 
Monitor doorstep deliveries: 
Shopping online for clothing, groceries, etc., for everyday comforts has increased deliveries to the doorstep. When paired with a video doorbell and smart door lock, you can tell the delivery person about instructions with the two-way communication system, such as putting it in the letterbox, doorstep, or porch. This also ensures porch security. 
Packages can be picked up the moment they are delivered. Getting live footage of what's happening at the doorstep is the best way to deter package theft.
Automatic locking: 
You can let your guests in even if you are not home or open the door while drying the clothes. Also, the door will lock automatically when they leave or come in! You can even schedule the opening and closing of the door with this special advanced feature! If you have left your home unlocked by mistake, you can rectify this in seconds with the smartphone app. 
Want to control who walks in and leaves your home during the day and night? Want to check if your kids are back home from school? You need to get a security combo from Leccy & Genesis. You need to stay protected and secure at all times, and the security combination of smart devices will ensure this by sending notifications about any front door activity on your smartphone. 
Two-way communication and the high-resolution camera:
The high-resolution camera and infrared night vision help you gather live footage and see it on your smartphone. Also, talking to the visitors via the two-way communication channel is easy. With a smart lock, only those with permission or passcodes for the door can access it to enter your home! You can call this intelligent, smart, and safe living!
Lock/ unlock your door with six unlocking options:
Pair the smart door lock features with a good high-resolution video doorbell camera with night vision, and you can even talk to the person standing on your doorstep and view his movements. This upgrade and the added security and convenience make smart locks worth it.
The smart lock and video doorbell combo by Leccy & Genesis has been specially designed to improve the security of a home. No one can get access to your front door without your permission. 
Entry is restricted to your permission only, and you control whatever takes place at your front door any time of the day or night! You can open the door with your fingerprint, OTP, numerical password, RFID card, smartphone app and a traditional manual key. That is plenty of options, we promise you!
Integrate security devices with voice assistants:
For ease and comfort, the smart door lock and video doorbell can be integrated with voice assistants like Amazon Alexa, OK Google, and Apple Siri. The lock can also be configured to respond to other smart devices in the home's ecosystem. 
Protecting family and home is a priority, and you can easily get a video doorbell camera and smart door lock! Monitor the movements, latch, and unlatch the front door through an app on your smartphone or voice commands to your voice assistant. 
Keep an eye on who enters your home, even from afar. Purchase the smart door lock and video doorbell in the L&G security combo for a stunning amount starting at just Rs. 16800/-. The security device helps you connect at least ten mobiles simultaneously, keeping them all in sync with the entry and exit. Leccy & Genesis has you covered and promises the user peace of mind!