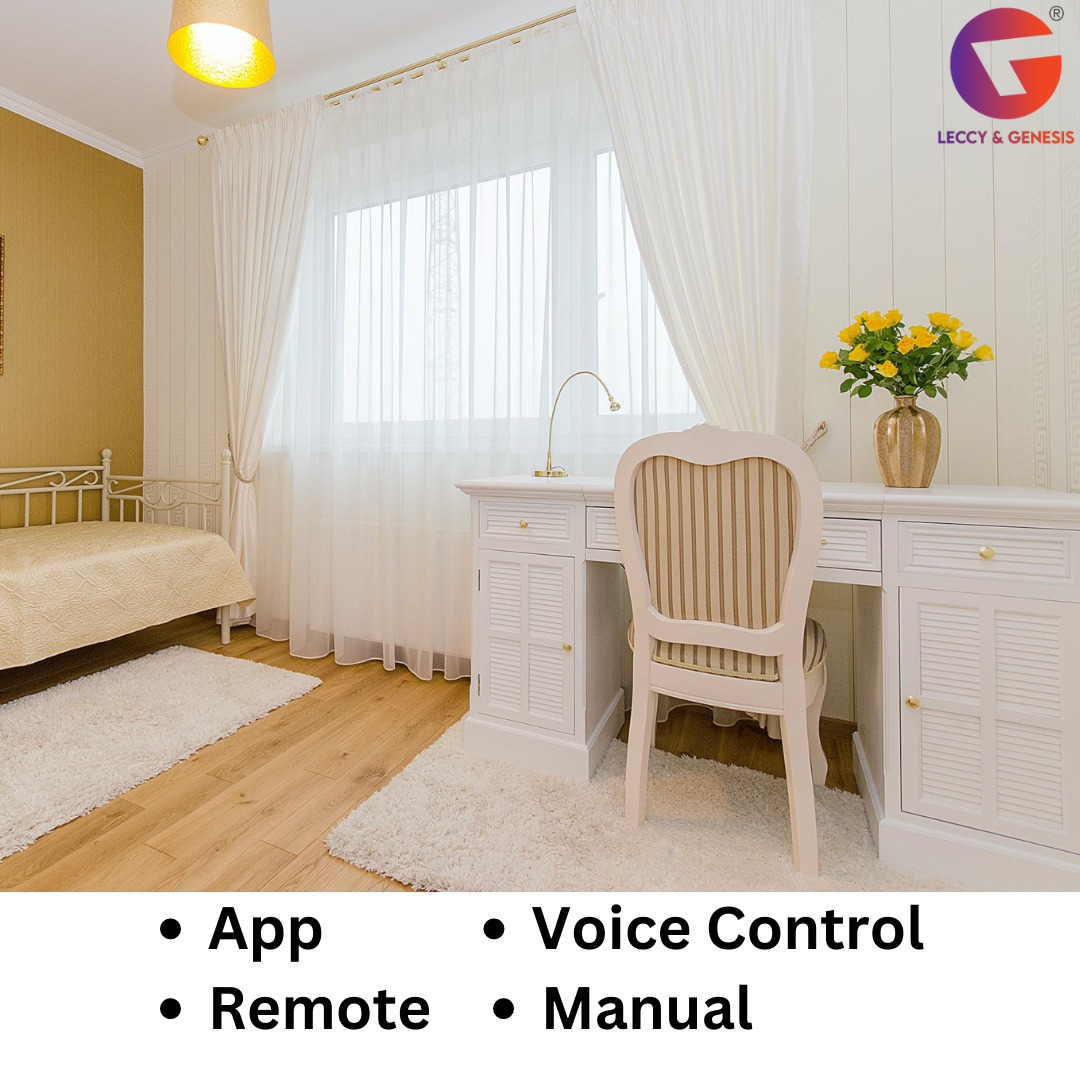 What are smart curtains? Benefits of Leccy & Genesis Motorized Curtain Track
Smart or automated curtains are motorized curtains or window coverings controlled electronically with a remote control, automated schedules, a smartphone, or voice commands. The curtains have mechanisms or motors to adjust the position and open or close automatically. There are many benefits to small curtains:
Convenience 
L&G Automatic curtains diminish the need for manually operating the curtain. Now, you can control these smart coverings effortlessly by tapping on your smartphone or giving a voice command to Amazon Alexa or OK Google from a distance. Can you imagine how easy it is to cover the hard-to-reach windows in your home? Moreover, if you want to operate the Remote Curtain manually, you can do so!
Schedule
Wi-Fi Smart curtains offer complete control over your safety and privacy with an app, manual, voice assistants, etc. You don't have to be there personally and can close or open curtains when at a distance from home. Potential intruders will not dare to enter your home, and you can deter robberies because burglars will always feel someone is inside the house. Isn't this an excellent security and privacy feature for your home?
Energy Efficiency
It's very easy to integrate the revolutionary remote controlled curtains with timers or sensors to open and close according to scheduled timings or shut down wherever the lighting is dim. This automatic adjustment of the curtains helps you alter and regulate the sunlight you want to welcome into the home. In this manner, you can lower energy consumption and lessen the dependency on artificial lighting. 
Synchronize With The Weather
Most of us rush to draw the curtains closed as the day ends and wake up to blaring alarms as the sun rises. We have a solution! Schedule a specific time for the curtains to close and create a "sleep-friendly" environment by blocking external light sources and improving your sleep patterns. Similarly, the bright sunshine is there to greet you every morning if you want. We promise you that the loud alarm noise will not bother you! You can schedule opening and closing according to the weather too.
Easy Accessibility
People with disabilities and mobility issues can access the WiFi curtain from a distance and operate it conveniently and independently without physical exertion or difficulty. 
Silent Track
The automated curtain by Leccy & Genesis works on the super silent track, and there is no noise during the closing and opening of the smart curtain track.
Home Integration and Scene Creation
Home automation devices, Smart devices, smart lighting, voice assistants, and smart curtains can be integrated to create customized scenes. The operation of various smart devices in the home can be synchronized to a preferred pre-automated routine, and even lighting can be adjusted with the L&G motorized curtains.
Choose an L&G smart curtain with aesthetic appeal for your living area. Match your interior décor and feel good. Also, you can open the curtain from the center, left, and right sides to gain entry from wherever you please. 
There is no necessity for a Smart Curtain switch, and you can operate all appliances with a single app and set up smart controls. The regular curtains can be fitted into the L&G smart curtain and are easily operable with the light trigger mode. Moreover, the sophisticated smart motorized curtain track can carry up to 50 kg of curtains. Operate the German-engineered, easy-to-install L&G smart curtain motor created according to Indian standards at your convenience. The curtain can be managed with a two-channel remote and used for more than one curtain in your home. No need to purchase another remote; use the same one!
For any query, contact the support team at 818-181-0654 ! Don't miss this opportunity to get the smart curtain. Also, you can get the Curtain motor or Motorized Curtain Track directly from Leccy & Genesis Website, so measure the track and order the same!