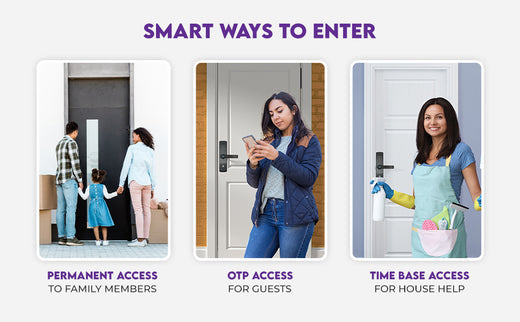 What is a Smart Doorlock and why should you buy it ?
Thanks to smart home devices and automation, life is now more secure and convenient than before. In fact, it is tough to picture a world without smart appliances, home security systems, Fingerprint door locks, safety sensors, and the best digital locks for home, voice-activated speakers, and other smart gadgets.
Without a doubt, smart door locks top the list. You don't need a key anymore to unlock your home. The Smart door locks offer several quick keyless entries to your house as well as increased security by enabling you to securely unlock and lock your entrance remotely using your Smartphone or another configured gadget by:
Remote unlocking with a smartphone app
Voice commands
Fingerprint
Custom codes to exit and enter
Proximity unlocking with a phone app
There are many advantages to getting a smart door look for your home. Let's see why we must replace the conventional key system and install a smart lock.
A smart lock is a bluetooth or wifi connected smart home gadget that enables the users to lock and open doors by just tapping with their fingers or giving a voice command. Now, you don't have to carry your house keys around. Leave them at home and interact with your smart door lock or use the fingerprint door lock to let you inside within seconds. Just tap the sensor, and voila! You're in!
Even at work, you can use the smart lock remote access feature to unlock your door to let a visitor. A perfect example of this is the  Leccy & Genesis wifi Smart Lock that has  been developed with relatively new and innovative German IoT-based technology.
Many smart home devices rely on fingerprint scanning, but others use smartphone applications and take help from digital assistants. Choose the finest Fingerprint door locks by comparing their characteristics, operation and features with the others in the market.
The customization feature in the smart door lock improves the home security experience. It would help to have complete control over your home and its security. The door locks have been designed smartly and are way more advanced and secure than ordinary ones.
The smart door locks are compatible with Android, OK Google and Alexa, so you can access them remotely from any device and be aware of all the activities and people coming and going out of your home. Now, it is so easy to lock your door from your Smartphone with the Best Smart Doorlock in india.
No Accidental lock-outs for you
What if you forgot your keys inside the home and the door locks itself? Getting spare keys for the whole family can be inconvenient because it costs money and wastes time. Getting a smart door lock is a great option. If you have been locked out of your home, you can open the door through the smart app on your Smartphone. You don't need a physical key anymore!
Adds extra security through passcodes
You can assign individual passcodes for different members of your family. So, add an extra security feature to the front door by picking a reliable wifi digital doorbell from the list of best digital locks for the home. House staff, friends, family, and guests- you can share customized codes and keep your home protected.
No hideaway keys were packed away on the porch. Bid goodbye to leaving keys under the flower pot or the doormat. Burglars are always looking for such keys and instantly check out the porch, mailbox, spout, gutters, pots and doormats when they are on the property. Now, maintain safety all the time. The codes of the digital door lock can be deleted or changed anytime you feel the door access is compromised.
Know who has come in or gone
Smart door locks work on notifications and alerts. When someone leaves or enters, you get an alert on the phone. Moreover, you can log in and find out whether your kids are back home or when your maid leaves the home premises. The safety features will give you immense peace of mind. There is no key, and your door stays protected with any visible key.
Passcode entry
There is a very low probability of outsiders getting the door lock pin right, and if someone keeps trying, you will be notified because of the excellent surveillance features. Passcode-protected entry is the best way to improve the security and safety of your home. Whether out for a party or a vacation, your home stays safe with the best wifi digital doorbell.
Reminders to lock the door
Are you leaving for work? Did you forget to shut the door on the way out? Don't worry! The smart door lock promises to set you a reminder notification so you never leave home without securely locking the door.
Geofencing is where the door automatically closes if you move out of the designated perimeter set in the app.
Tamper-proof digital door lock: Prohibits burglars from tampering with the digital lock keeping you safe and secure at all times.
Smart home devices are a boon for every home and can enhance its safety with intelligent security. The best wifi door lock operates excellently with a strong internet connection and multiple keyless options.