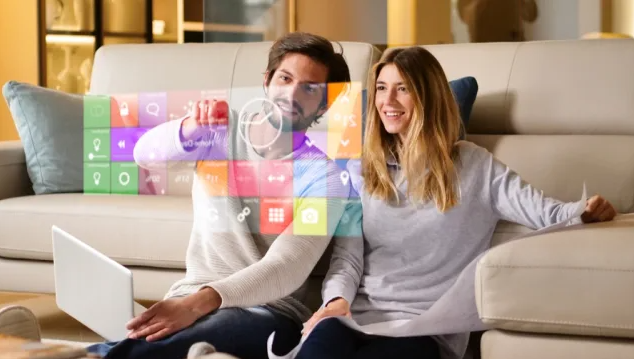 How to automate your home in 30K ?
For a long time, smart home automation remained a dream purchase for ordinary people. Only affluent people mechanized their homes because the technology was expensive. Undoubtedly, futuristic elements are costly, but they are today's reality and are more affordable now. Making a smart home for less than Rs. 30,000/-is currently possible.
Today's growing selection of technologically-inspired smart devices makes a smart home. Leccy & Genesis, the best home automation company in India, offers a range of superior quality Smart Doorlock, Smart Switches,  Smart Switch Boards, and smart video doorbells made with German Engineering. Why not check them out and automate your home in 30K? 
Video Doorbell:
Leccy & Genesis Smart Video Doorbell is an essential gadget for the safety and security of your premises. The video doorbell is a device installed on the front door of a home or business that allows occupants to see and speak with visitors from a distance through a smartphone or other connected devices. The video doorbell typically includes a camera, microphone, and speaker and can be connected to a home's WiFi network.
Leccy & Genesis Smart Video Doorbell offer additional features such as motion detection, colored night vision, recording, and storing video footage. They may also integrate with other smart home devices, such as a home security system or a voice assistant like Amazon Alexa or Google Assistant.
When considering a video doorbell, it's essential to consider factors such as video quality, easy installation, and compatibility with other devices in your home. Find out whether the device requires a subscription to access advanced features or cloud storage for recorded video footage. Setting up the L&G video doorbell is easy. 
L&G Video doorbell capture and record footage of any activity within the camera's field of view and also have a built-in microphone to capture sounds and audio. L&G Smart Video Doorbell helps you to check your door activity from anywhere.
The advanced doorbell models have high-resolution videos. If placed strategically, the video doorbell camera can capture all kinds of movements in the surroundings and shoot them secretly. In fact, the bell is a deterrent for thieves and robbers.
The motion sensors record the moment they detect movement and capture footage excellently in low-light conditions. The L&G Video doorbell has video cameras with two-way audio, speakers, and microphones for two-way communication between the homeowner and the visitor, also providing clear colored night vision to 22 feet.
Smart Switches:
The L&G Smart Touch Switch is a modern and stylish switch that can be controlled through a smartphone app, wi-fi, voice commands or touch. It is a smart home device that offers a convenient way to control the lights in your home and create an energy-efficient and comfortable living space. Can you ask for anything more? Imagine saving money on your electricity bill. 
One of the key features of the L&G Smart Touch Switch is its touch-sensitive design. Unlike traditional light switches that require to be pressed, this sleek, modern-looking switch gets activated by touching, making it easier to use. 
Another feature of the L&G Smart Switch is its smart functionality. It can be connected to your home WiFi network. You can now control the lights through a smartphone app or voice commands via a compatible virtual assistant like Amazon Alexa or Google Assistant. You can turn lights on or off, dim them, or schedule them without leaving your seat.
Additionally, the L&G WiFi Switch can be customized to automatically turn lights on or off at specific times or even link it to other smart home devices to activate multiple devices with a single touch or voice command.
The energy-efficient electrical switches are controlled via voice commands, a mobile app, or other wireless technologies such as Bluetooth or WiFi. Control lights and other appliances in seconds with the smart switch as they respond to voice commands and are compatible with virtual assistants like Amazon Alexa, Google Assistant, Siri Shortcut.
The convenient Smart switches by Leccy & Genesis can turn your ordinary lights into smart ones with energy-saving qualities. The sophisticated switches also help track energy usage and identify extra energy-consuming appliances in your home or office.
Motion Sensors: 
The Leccy & Genesis PIR sensors are Motion sensors used in security systems and home automation. PIR stands for Passive Infrared, which means that the detector detects any change in the infrared radiation emitted by objects that fall in its field of view.
The PIR sensor is a motion sensor designed for outdoor use. It uses advanced digital signal processing technology and helps reduce false alarms caused by animals, weather upheavals, or other sources. The PIR sensor is weather-resistant, easy to install, and can detect movement up to 12 meters effectively by instantly detecting changes in infrared radiation. 
Smart Door Locks:
You no longer need a physical key to lock and unlock doors. Get smart door locks. Leccy & Genesis Smart door locks allow total control to access your property with 6 different unlocking methods : Fingerprint, Password, OTP, App, RFID Card, Emergency Key.
The door lock can fit any interior or exterior door for private residences, offices, rental properties, or business establishments. Moreover, don't worry about the fitting! It is an excellent fit for every type of door.
The most incredible security features are built into the Smart Door locks to protect your home. This kind of door-locking solution offers restricted access while enabling you to record and keep an eye on visitors simultaneously. It is ideal for both your home and your workplace because it gives alerts and immediate warnings and also raises the alarm if tampered with. Furthermore, the smart door lock suitable with metal and wooden doors. 
They are great alternatives to keys and can be set up in your budget and opened with OTP, PIN codes or App from afar. The L&G digital locks offer pathbreaking control to the owner and can be locked or unlocked from a distance, even across borders. 
Digital door locks are convenient and secure, allowing users to unlock their doors without a physical key. Instead, they use a code, fingerprint, etc., to open the door, thus eliminating the need for physical keys. Keys can be lost or stolen, but smart locks can be operated without them.
Researching and comparing different brands and models is essential to find the one that best suits your needs and budget. Leccy & Genesis offers the Best smart home automation products developed creatively with German Engineering to enable home automation through voice commands and other devices, so choose wisely!