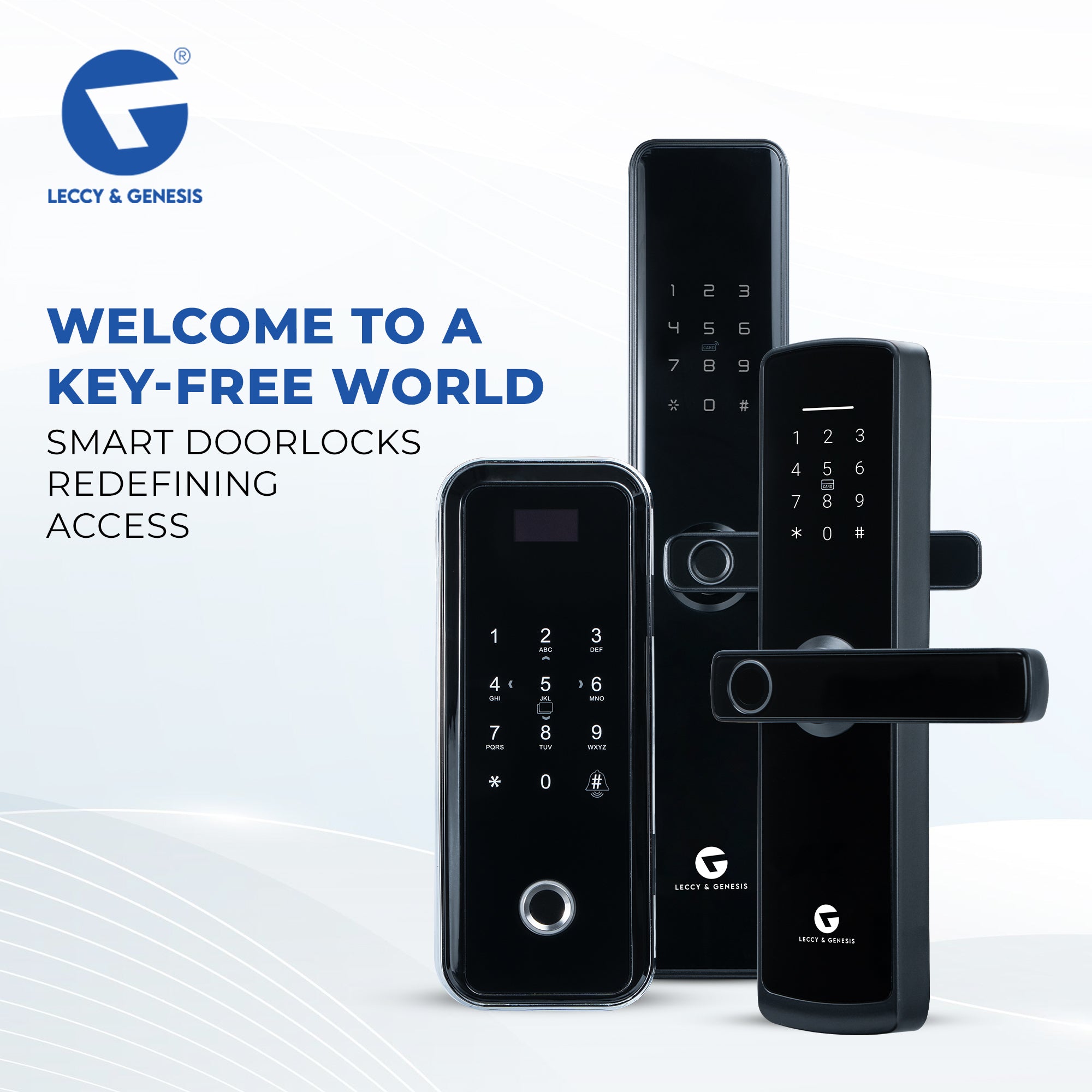 Unlocking the Future: Exploring the Best Smart Door Locks for Homes
Home safety is, to a great extent, dependent on innovative security solutions. In this technologically advanced world, we don't need to use keys to enter our homes. Why not get an L&G smart door lock for the home and feel safe and secure at all times?
Traditional methods of entering homes are passé; new home security solutions are waiting for us. You can change your old locks for smart locks. Operate them by remote control, keyless entry, biometric recognition, fingerprints, RFID cards, etc., to safeguard homes. The technology is revolutionary and ideal for home security. Protect your home by unlocking the future and exploring the best smart door locks for homes. There are some factors to consider before you choose the best smart locks:
Track strangers and friends who walk up to the entrance. You can now access a record of the visitors on your phone from wherever you are.

The door lock can be on metal, wooden, or glass doors. You have to pick the right door lock, so there are no complaints.

The automatic locking feature helps the door lock itself whenever someone uses it. This feature acts as an extra security layer, so there is no fear of people entering if you leave the door open by mistake.

Family members can enjoy permanent access to the home, and house-help, domestic helpers, service members, and acquaintances can be given a temporary access code. At one time, 100 fingerprints, 100 RFID cards, and 100 passcodes can be used. These can be erased at will!

The security features include alarms that ring if the door lock is tampered with or if there are any attempts at forced entry.

A low battery reminder helps keep the battery charged at all times so that all the features work to perfection. 

Voice commands through voice assistants and remote access from a distance protect intruders from entering and easily accessing the door. Enter and exit on a voice command or with an app. 
Home automation and smart home devices make life convenient and secure. Smart appliances are a part of every home, whether home security systems, the best digital locks, or fingerprint door locks. Keyless entries help save time, increase security and permit the owner to operate the entrance remotely with a configured gadget such as a smartphone, tablet, etc. You need to own the best lock for your home, and we highly recommend the path-breaking L&G door locks.
The Smart Door lock has been designed with the most advanced safety features to enhance security within your premises. This innovative 6-in-1 unlocking mechanism gadget includes tamper alarms and instant notifications. L&G Smart Door Locks are made using cutting-edge German technology to meet Indian standards. With an advanced fingerprint Smart Door locking solution, the door lock is ideal for your home and workplace. Moreover, the smart gadget lets you keep a log and monitor people's visits to your door. Besides easy operation, the smart door lock works with wooden and metal doors.
This smart door lock comes with the following:
6-in-1-door unlocking options: The smart door locks are an excellent security feature for your home and work excellently with their 6-in-1 unlocking options, namely:
Numerical passcodes that can be temporary and changed at will for entry and exit

Fingerprint scanners and biometric measures

RFID card system that will be included with the door lock box

Emergency key set

One-time password system

Smartphone app for remote access
Entry and exit can be controlled, and access limitations can be enforced according to choice. You can even customize the codes so that security measures are maintained. Let us see why we need to replace the traditional system of keys!
The Smart Door Lock DZ15 has a sophisticated modern Edge Arc design that sets the device apart. This fine and sleek smart security gadget at the entrance of your home blends in beautifully with all interiors and exteriors and is the ideal companion for your business facility, home, or flat.


The Leccy and Genesis smart door locks, Created using innovative German technology, suit Indian standards and provide an amazing keyless experience to the owner.No one knows when you silently unlock your home with your smartphone. A number pad on the digital lock with a tempered glass aluminum alloy screen makes the experience soundless. 
The glossy design of the L&G Smart Doorlock for Glass Doors is ideal for private cabins and offices. Designed by skilled German engineers, this smart gadget meets Indian standards perfectly and is suitable for framed or frameless glass and Double Glass Doors. The lock has five different unlocking options to protect and unlock the door:
Fingerprint entry

Numeric Passcode, 

OTP

IR Remote 
The elegant design of the L&G Smart Glass Door Lock is attractive and provides the user with complete control over the door, offering complete protection and easy access at the same time. The lock can easily fit in a 10-12 mm thick glass door and can be set up without drilling or cutting. 
Smart door locks are a great digital wonder integral to every home's safety and security. L&G offers the best with the locks mentioned above and the handleless and smart cabin locks as well. These custom-made devices will permit you to monitor the entry and exit of everyone around your home. Now, you can enjoy a carefree life because there are no keys, but multiple ways exist to access the homes. 
In an emergency, the company provides you with a mechanical key. Whether you use it or rely on the 6-in-1 locking options is your choice. Unbreakable security features and modern, sleek waterfall glass make it a great asset for your home. A fault-proof key experience awaits you. Leccy and Genesis promise you this smart security solution; go for it!